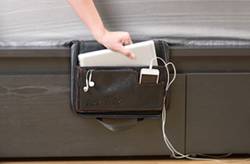 Designed for anyone who owns a tablet, a cell phone, and a bed.
ASHEVILLE, NC, (PRWEB) October 31, 2014
Twisted Logic announced the launch of the TekTuk™ bedside idevice management system, designed for anyone who owns a tablet, a cell phone, and a bed to keep devices accessible all night long, safely and conveniently, while they charge.
The TekTuk is a patent pending, multi-pocketed electronics organizer that tucks between the mattress and box springs of any bed. TekTuk provides plenty of convenient bedside storage options including:

Cell phone pocket, accommodates any cell phone up to 3¼ inch wide and 1 inch thick (including the iPhone 6 and 6+).
Tablet computer pocket, fits any tablet, netbook, or mini laptop up to 11 inches wide and 1 inch thick.
Accessory pocket, easy storage for power and charging cords, earplugs, iPods, mice, remotes, etc. in a spacious 7 inches wide x 4½ inches high zippered pocket.
Elastic magazine and document pocket to store magazines, boarding passes and other documents neatly and conveniently.
Cord management loop - Run your charging cables through the elastic loops located on either side of the tablet pocket so that they are always conveniently accessible.
TekTuk was prelaunched and successfully funded through an Indiegogo crowdfunding campaign in 2013. Since then, Twisted Logic CEO Kevin Jennings says the bedside storage system design was tweaked to perfection and is now available to anyone who is ready to eliminate the tangled mess of cables, earphones, remotes and electronic gadgets that reside on the floor, in the "moat" around their bed.
"The idea came to me one morning when my girlfriend accidentally stepped on my iPad, cracking the screen," Jennings says. "It wasn't her fault, I shouldn't have kept it on the floor next to the bed; but out of this tragedy came the idea for the TekTuk."
To celebrate the retail launch, Twisted Logic is running a sale on the TekTuk website Nov. 1-16; enter the promo code EPR20 at checkout and get 20 percent off the entire order.
To find out more about the TekTuk or inquire about bulk pricing, visit tektuk.us, email info@tektuk.us, or call 828-398-0566. Media and tech bloggers, please contact TekTuk to request a product review sample.
About Twisted Logic:
Established in 2011, Twisted Logic, Inc. is a mobile development and consulting company headquartered in Asheville, North Carolina. From Apple to Samsung products and everything in between, the Twisted Logic team strives to create innovative products that will compliment and protect electronics. Inspired by the precision and perfection of all things Apple, consumers can rest assured that their electronics will stay safe, secure, and looking great in their TekTuk products. Visit the website at TekTuk.us or follow TekTuk on Twitter and Facebook.
###