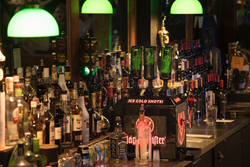 This is just our small way of helping the family of this brave man.
Algonquin, IL (PRWEB) October 10, 2017
Twisted Rose, a world cuisine restaurant and sports bar in Algonquin, IL, recently hosted a fundraiser for Battalion Chief Todd Middendorf of the Carpentersville Fire Department, who recently passed away. The event also included an 11th birthday celebration for Todd's son, Tyler.
"This is just our small way of helping the family of this brave man," said Jayson Benjamin, of Twisted Rose.
The following day, Twisted Rose presented the Mayweather vs. McGregor fight where it encouraged donations for Middendorf's family. "We proudly raised a total of $2,500 for the family," noted Benjamin.
Twisted Rose features a cornucopia of American, European, Italian, Greek and other global cuisines. Signature menu classics include calamari steak, sizzling saganaki, London broil, Italian Angus burger, tempura shrimp, chicken Italiano, calzones, pizza and much more. All of its food is made from scratch, using only the highest-quality ingredients.
For more information about Twisted Rose's variety of weekly events, including karaoke, live music, open mic nights and sports-related events, visit its calendar page.
About Twisted Rose
Twisted Rose has something to please every palate, offering a menu that features all types of cuisine. Twisted Rose only uses Certified Angus Beef ®. The restaurant and sports bar constantly updates its event calendar so there's something fun going on no matter what day of the week. For more information, please call (847) 658-7641, or visit http://www.atwistedrose.com. Twisted Rose is located at 1130 South Main Street, Algonquin, IL 60102.
About the NALA™
The NALA offers small and medium-sized businesses effective ways to reach customers through new media. As a single-agency source, the NALA helps businesses flourish in their local community. The NALA's mission is to promote a business' relevant and newsworthy events and achievements, both online and through traditional media. The information and content in this article are not in conjunction with the views of the NALA. For media inquiries, please call 805.650.6121, ext. 361.