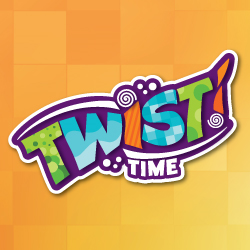 Parents have been looking for a fun, active and memorable activity to bring the family together.
(PRWEB) January 29, 2017
The next few months leading into Spring will bring many new items to the store aisles, but parents and children alike are sure to notice a new line of family-friendly games in Target's outdoor toys and sporting goods section, called Twist Time. Perfect for reunions or spur-of-the-moment family game nights, Twist Time provides games that will get families of all ages off the couch, laughing and interacting together.
"With busy schedules and more time spent on the phone or in front of the TV than ever before, it's become increasingly difficult for families to spend quality time together. Parents have been looking for a fun, active and memorable activity to bring the family together, and that's exactly what we're providing with Twist Time." CEO of Blip Toys, Bill Nichols
A wide variety of indoor and outdoor games are offered at friendly price points making Twist Time a valuable purchase to be used year-round. Families can turn their yard or floor into a game board with Word Scramble, or challenge each other to build the biggest tower with Tower Crash. As most family get-togethers go, sunny-day cookouts turn into quiet nights. With Twist Time, the fun continues after the sun goes down with games like Giant Lighted Dice or Lighted Bean Bag Bash.
Twist Time is a fresh take on traditional games, adding a "twist" to the classic games of the world. Whether the innovation is mega-sized, water resistant, light-up based, or just taking the fun to a new level, Twist Time has family gaming completely covered.
About Blip Toys
Bill Nichols established Blip Toys in 2000 with a passion for making high quality toys for today's kids, offered at a great value. Blip Toys is a fast-reacting, trend-driven global marketer of high-volume toy concepts including dolls, collectibles, plush, animatronics, activity, outdoor, novelty and action toys.