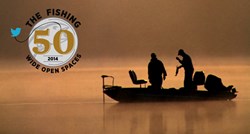 Anglers are infamous for tall tales, so being featured for our ability to squeeze thoughts into 140 characters is quite an achievement!
Austin, Texas (PRWEB) February 20, 2014
Wide Open Spaces has released their latest installment of Twitter influencers in the outdoor sports realm, with the "Fishing 50," a list of the top 50 anglers, brands, publications, nonprofit organizations and personalities in the fishing industry.
The Fishing 50 features the top Twitter users and social media influencers in the competitive and recreational angling world. The entries on this list use Twitter as an educational tool, and work to connect anglers of all skill levels throughout the fishing industry. By following these entries, an angler of any kind will be connected to information throughout the sport fishing world, whether its bass fishing, offshore angling, or anything in between.
"We're excited to present this list," said Wide Open Spaces CEO and co-founder Denis O'Dwyer. "The Fishing 50 is our second collection of Twitter influencers for an outdoor sports category. We believe that by following these entries, readers will be able to become more informed and connected to all aspects of the fishing industry. They're the people we follow, and plenty of other angling enthusiasts follow too."
"Anglers are infamous for tall tales, so being featured for our ability to squeeze thoughts into 140 characters is quite an achievement!" said Tammy Sapp, Director of Communications for Bass Pro Shops, number four on the Fishing 50. "Whether it's a witty comment, helpful tip, or adventure inspiring quote, we have found that Twitter is a great way to connect with our customer. There is a very special community that surrounds the fishing industry, and we take pride in having an active voice through our social media channels."
The Fishing 50 list was unveiled in anticipation of the 2014 Bassmaster Classic, which is set for Feb. 22-24, 2014 at Guntersville Lake in Alabama.
"We've found a big audience in social media, and they've inspired us grow our frequency and experiment in our offerings," said Jim Sexton, VP Digital at B.A.S.S., the organization that runs Bassmaster. "We hold nearly 40 bass fishing tournaments a year and have found that Twitter is a great way to communicate up to the minute news. We even have a Twitter feed that notifies followers of every fish catch."
"Our social media editor Tyler Reed works hard to make every Tweet high quality and beneficial to the audience. We're excited to be recognized by WideOpenSpaces.com," said Sexton.
Last January, Wide Open Spaces released their list of the top Twitter users in the firearms industry, "The Shooting 50." They will be sharing more lists in the coming months, highlighting the industry leaders in hunting, fishing and other outdoor sports. Stay tuned to WideOpenSpaces.com for their release.
About Wide Open Spaces
Wide Open Spaces is the premier online destination for all things hunting, fishing, shooting and outdoors, providing content, commerce and community to an audience of sportsmen and women who share a passion for the great outdoors.
Founded in 2011 and headquartered in Austin, Texas, Wide Open Spaces is a truly optimized hunting and fishing site for social and mobile users, complete with the Internet's first and only shopping comparison site for hunting, fishing, shooting and outdoor needs. For more information, visit WideOpenSpaces.com.