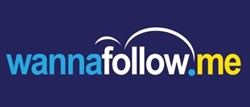 Tampa, FL (PRWEB) February 05, 2014
Wannafollow.me which launched a new site design in early December announced today the addition of Facebook and Twitter feeds to its site. The new functionality allows users to add real-time displays of their feeds from both social media forums. The feature is one that sets Wannafollow.me apart from competing sites.
In addition to the Twitter and Facebook feeds, users will also be able to display chatter about a specific hashtag. Users can choose from any hashtag they would like to display and it will show up in a feed widget on their Wannafollow.me page. This is particularly helpful for users conducting marketing, branding, or even social awareness campaigns that are centered on a particular hashtag. If that hashtag is gaining traction on social media, the hashtag creators can showcase their success directly on their Wannafollow.me page with the hashtag display widget.
The new WannaFollow.Me offers detailed SEO benefits for individual pages, more custom fields for personalizing pages, real-time social feeds from Facebook and Twitter, the option for slide show backgrounds, and the new hashtag feed. Users will also be able to connect any of their social media accounts to their personal pages including: Flickr, YouTube, and Google+ to name a few. All WannaFollow.me pages are mobile compatible making accessing pages extremely convenient.
WannaFollow.Me gives individuals and businesses the opportunity to brand themselves through various free writing sections.
About WannaFollow.Me:
Headquartered in Tampa, FL, leading profile engine, WannaFollow.Me, is an operating business of WannaFollow, LLC. The company mission is simple: to help individuals and businesses create an online presence and market themselves. WannaFollow.ME plans to launch their profile engine in the UK and Austria by March 1. To learn more please visit WannaFollow.Me.