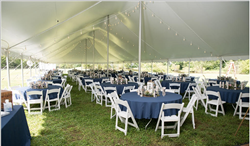 Your Event. Our Expertise.
CINCINNATI (PRWEB) March 12, 2020
Academy Rental Group, a full service tent and event rental business located in Cincinnati, was formed by A Gogo Event Rentals and Academy Rentals merging together in 2019. While both companies provided tent and party rental services in the Cincinnati area, each focused on different industry markets. A Gogo focused on corporate events, graduation and wedding rentals. Academy Rentals services community events, festivals, benefits, backyard parties and large scale events. The owners of each company have a long history together dating back to 1999 when they both worked in the event rental industry together before running their own companies.
From the co-founder - "We are extremely excited about the merger of our companies. The merger allows us to enhance the level of service to our customers, increase operational efficiencies and provide a better infrastructure for our staff to grow. We've been able to do a lot of great things already with the merger, we added a tent washer to increase our quality control and we have provided a "one stop shop" for our existing customers previously using two seperate vendors. One major initiative that we are most excited about was beefing up our benefits program to our employees. We now offer health, dental, vision, long term disability and a retirement plan. We hope that in the challenging times of hiring in today's world, this will enable us to reduce turnover, providing a more consistent customer experience by retaining trained staff for longer. So far, it is working out great!"
Interested persons can find out more about their services: Cincinnati Tent Rental Services
According to their website, Academy Rental Group is a family-owned business run by co-owners Ed Layer and Chad Gilbert. Both owners shared the same vision of streamlining the operations and exceeding their customers expectations by providing a boutique customer service approach, providing memorable and stress free events to their customers. Academy Rental Group services areas Greater Cincinnati, Northern Kentucky, and Southeast Indiana.
Academy Rental Group is fully insured by the Huesman Schmid Insurance Agency, is an ARA member and belongs to many local chambers in the Cincinnati and Northern KY region.
"Our online customer reviews on Google and Facebook show the dedication we have to ensuring each event is a success, we strive to exceed our customers expectations. Our staff takes great pride in our work and products" - Chad Gilbert - Co-Founder
One of the frequently asked questions the tent rental company receives is how the tent renting process works. According to the company's website, A customer will typically provide an online request or call for a quote. Once that is done, Academy Rental Groups' staff will complete a quote and send that along with a tent layout (CAD Drawing) and a welcome packet that provides more information about their company and tent rental. Once the customers are prepared to move forward with the tent rental, a signature is required on the invoice, along with a Credit Card Number and a 50% non refundable deposit. At that time Academy Rental Group will allocate their inventory for their customers event in their inventory management system, securing their rental product needs. A week prior to their event the customer will be contacted with their estimated delivery and pick up time. During that time, Academy Rental Group will deliver and install the customers products. Typically delivery and pick up happen during the week, that is the most cost effective option. The time required for set up depends on the items requested. It is always helpful to have someone onsite during delivery. However, for the pick up of your items, as long as everything is located under the tent, no one is required. Final payment is due prior to installation.
Academy Rental Groups inventory consists of numerous tent sizes for grass and hard surfaces, festival booths, chairs, tables, linens, dance floor, stages, a wide variety meeting and party rental equipment to service any size guests count. They operate a 22,000 square foot warehouse and employ 16 full time people.
For company updates and more information visit: Academy Rental Group
###
For more information about Academy Rental Group, contact the company here:
Academy Rental Group
Chad Gilbert
(513) 772-1929
116 Marion Rd
Cincinnati Ohio 45215