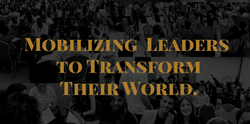 The march towards one million souls for Christ by 2022 continues to accelerate.
ATLANTA (PRWEB) June 07, 2019
John C. Maxwell, a #1 New York Times best-selling author, coach and speaker who has sold more than 30 million books in 50 languages, appointed Terence L. Chatmon as president of The John Maxwell Leadership Foundation and EQUIP Leadership just over two years ago. Prior to leading the day-to-day operations of these two non-profits, Chatmon held a number of senior executive leadership roles in businesses including The Coca-Cola Company, Johnson & Johnson, Citicorp.
In that time, Chatmon has led the strategies and operations of Maxwell's two non-profit entities—The John Maxwell Leadership Foundation and EQUIP Leadership. Both non-profit groups, through their distinct program offerings, support Maxwell's vision of adding value to people who multiply value to others, resulting in the transformation of leaders, organizations, communities and nations around the world.
The John Maxwell Leadership Foundation's mission is to facilitate transformation in countries around the world through leadership values and intentional living programs within each country's streams of influence, including government, education, business, churches, arts, media and family.
EQUIP Leadership stewards John Maxwell's call to evangelism by providing strategic leadership training and mobilize Christian leaders around the world. Through EQUIP's initiative, Salt & Light, volunteer associate trainers are commissioned to prepare leaders to be agents of transformation in their spheres of influence using a roundtable methodology. These leaders are mobilized to make a difference in their communities by facilitating roundtables that earn them an opportunity to share the powerful message of transformation with participants.
By the end of 2018, this transformative movement saw 150,120 people come to know Christ. In 2019, the momentum continues to build as preparations are being made for 800,000 roundtable participants, 100,000 roundtable facilitators to be trained and committed, and 300,000 new stories of transformation. The march towards one million souls for Christ by 2022 continues to accelerate.
Chatmon has catalyzed growth at every level of these organizations through a strong transformational leadership style and his unwavering commitment to creating thriving environments. He shared his thoughts on his two years at EQUIP and the John Maxwell Leadership Foundation.
"I am humbled and honored to serve John Maxwell's enterprise through my role as president of Equip Leadership and The John Maxwell Leadership Foundation. John C. Maxwell encourages leaders to put their dreams to the test, and so I continue on a transformational journey of impact and influence of the nations through leaders with a greater purpose. We are calling all leaders who desire to take part in reaching the nations through our Salt & Light initiatives as Associate Trainer."
For more information about EQUIP Leadership, visit us at http://www.iequip.org, or to learn more about the Associate Trainer Program please visit us https://www.iequip.org/about/associate-trainers/
###
MEDIA CONTACT:
Gladin Joseph | gladin.joseph@iequip.org - Chatmon is available for interviews and to share on the Salt & Light Movement upon request.
ABOUT EQUIP:
EQUIP was founded by John C. Maxwell and Larry Maxwell in 1996 with the desire to train up servant leaders through biblical principles. In 2015, it became clear to John that EQUIP's purpose was to do more than train leaders but to see transformation take place. And, true transformation doesn't happen without the life-changing power of the gospel.