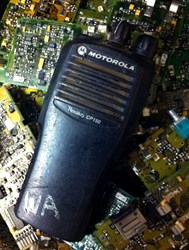 This was a popular model, and continues to have many users in the U.S.
Cameron, MO (PRWEB) November 05, 2013
Delmmar Communications Corp., a nationwide repair facility for out-of-warranty Motorola two-way radios, announced today they will continue to repair the CP150 portable radio at their Midwest facility. This in regards to the news that Motorola Solutions will no longer support this model after July 30, 2014.
The CP150 2-watt portable radio, was originally offered in a VHF and UHF version. It is very similar to the current Motorola CP200 portable, which is offered in VHF 5 watt and UHF 4 watt, with 4 or 16 channels. "This was a popular model, and continues to have many users in the U.S. Delmmar will continue to repair the CP150, as well as many other units no longer supported by the factory depot. All this being subject to parts availability for the individual radio models," stated spokesperson C.S. Lintner of Delmmar Communications.
In addition, Delmmar offers a few tips for helping to keeping your 2-way radio out of the repair facility:

Replace the battery every 2-3 years, or sooner if needed.
When using an audio accessory, keep it secure in the accessory jack with an audio accessory retain. This will protect the jack from undue wear.
Utilize dust covers provided to cover audio jacks and openings, do not remove them.
Safeguard your radio from crush damage, avoid back pockets and places people sit.
After the warranty has expired it is still possible to have nearly all business and commercial Motorola 2-way radios repaired.
About Delmmar Communications Corp.
Delmmar provides a full line of wireless communications products, services and solutions. (http://www.eradiostore.com) Established in 1987, the company has a nationwide radio repair center offering component level radio repair with flat rate pricing and fast turnaround times on out-of-warranty Motorola radios and other associated equipment. Delmmar is headquartered in the Midwest with service to all 50 states and many US territories. For more information visit http://www.eradiostore.com or call them at 800-872-2627.
MOTOROLA, MOTO, MOTOROLA SOLUTIONS and the Stylized M Logo are trademarks or registered trademarks of Motorola Trademark Holdings, LLC and are used under license. All other trademarks are the property of their respective owners. © 2013 Motorola Solutions, Inc. All rights reserved.