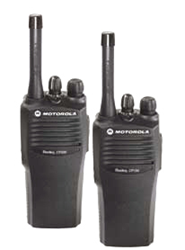 Delmmar will continue to offer the CP200 family of radio models through November 2014 and while supplies last.
Cameron, MO (PRWEB) September 09, 2014
Delmmar Communications Corp., a nationwide 2-way radio sales and service company, continues to offer service for the Motorola CP200, CP200XLS, PR400 portables, CM200, CM300 and PM400 mobile radios.
First introduced in 2003, the Motorola Radius CP200 quickly became a popular radio model for businesses, organizations, and municipalities. A frontrunner in the change from wideband to narrowband, the CP200, CP200XLS, and PR400 were capable of both wide- and narrowband, easing the mandated January 2013 transition to the narrower channel spacing. Similarly, the CM200, CM300, and PM400 mobiles led the way for narrowband in mobile radios.
A new digital family of radios including the Motorola CP200d, CM200d, CM300d, XPR2500, announced earlier this year are now in place to replace the CP200-family of radios. These newer radios will offer both analog and digital capabilities within the same radio. (Existing CP200s will still be capable of communicating with the new models while in analog mode.) Digital radios are slated to be the wave of the future with clearer transmissions and longer talk-times.
Delmmar spokesperson C.S. Lintner stated, "Delmmar will continues to offer the CP200 family of radios, as well as, the new digital product line. Additionally, our repair repair center will continue to repair these and other retired models well into the foreseeable future." Delmmar's Midwest based radio repair center offers after-warranty radio repair for both current and older model Motorola radios, and other electronic equipment.
About Delmmar Communications Corp.
Delmmar provides a full line of wireless communications products, services and solutions. (http://www.eradiostore.com) Established in 1987, the company has a nationwide radio repair center offering component level radio repair with flat rate pricing and fast turnaround times on out-of-warranty Motorola radios and other associated equipment. Delmmar is headquartered in the Midwest with service to all 50 states and many US territories. For more information visit http://www.eradiostore.com or call them at 800-872-2627. MOTOROLA, MOTO, MOTOROLA SOLUTIONS and the Stylized M Logo are trademarks or registered trademarks of Motorola Trademark Holdings, LLC and are used under license. All other trademarks are the property of their respective owners. © 2014 Motorola Solutions, Inc. All rights reserved.