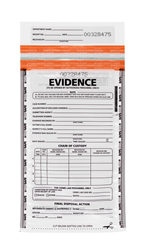 These bags are top-of-the-line security with the Keepsafe™ Ultra closures.
ATLANTA (PRWEB) July 24, 2019
TydenBrooks, the global market leader in security seals, has released a new extension to their tamper-evident bag catalog adding new one-time use tamper-evident bags with KeepSafe™ Ultra closure. This line of tamper-evident security bags introduces the deposit bag, dual deposit bag, evidence bag, leak-proof bag, tamper-evident transport bag, and coin bag. Some of the key features of these new tamper-evident bags include easy to write on surfaces, customizing options, matching tear-off receipts, and the KeepSafe™ Ultra closure.
The Keepsafe™ Ultra closure featured on these new bags is one of the highest levels of tamper-evident closure. It is known as the gold standard in the industry and is designed to protect against all known methods of compromise. These methods include freezing, heat, and traditional opening of the bags, all of which will result in unique visible tamper evidence depending on the method used. The sides of the bags also include downside seals to combat side breaches and reseal attempts. This new line of tamper-evident bags covers many forms of sensitive transport such as cash and coins, documents, pharmaceuticals, medical supplies, and evidence chain of custody.
These new security bags have a high level of customization. Each bag type comes in standard sizes but can be customized to a specific size upon request. Markings including barcodes, serial numbers, logos, and writing areas can also be customized. All bags are made with superior strength coextruded film, and many come with tear-off receipts that match the bag numbers for further security. These tamper-evident bags come in transparent or opaque depending on the customer's needs. These new one time use tamper-evident bags are made in America, so they are always in stock and ready to ship.
"These bags are top-of-the-line security with the Keepsafe™ Ultra closures," Senior Product Manager, Kelvin Cannady said. "They are perfect for customers that need one-time use security bags that they can depend on to protect their sensitive shipments."
About TydenBrooks: TydenBrooks is the global leader in the design, manufacture, and supply of high security and tamper-evident seals and devices. Through its acquisitions of TydenBrammall, EJ Brooks, and Stoffel Seals, TydenBrooks has over 350 years of combined experience and history in the manufacture of security seals. TydenBrooks has constantly exhibited market leadership through innovation, research, quality, design, and manufacturing globally.