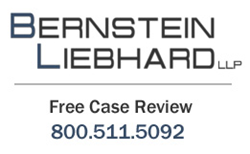 Our Firm has heard from a number of individuals who allegedly suffered acetaminophen-induced liver damage following the use of a Tylenol-brand medication.
New York, New York (PRWEB) March 11, 2014
Tylenol lawsuits (http://www.tylenollawsuitcenter.com/) filed on behalf of individuals who were allegedly injured by the popular over-the-counter medications continue to mount in a federal multidistrict litigation now underway in U.S. District Court, Eastern District of Pennsylvania, Bernstein Liebhard LLP reports. According to an article published by the Philadelphia Inquirer last month, at least 123 cases have been filed in the proceeding, all of which accuse McNeil-PPC Inc., a unit of Johnson & Johnson, of concealing the risks associated with acetaminophen, the active ingredient in Tylenol products. * (In Re: Tylenol (Acetaminophen) Marketing, Sales Practices and Products Liability Litigation, MDL No. 2436)
One expert interviewed by the Philadelphia Inquirer pointed out that acetaminophen toxicity sends 78,000 people to the emergency room and result in about 33,000 hospitalizations every year. He also asserted that many of the injuries and deaths attributed to acetaminophen-induced liver damage involve young, healthy people and are largely preventable.
"Our Firm has heard from a number of individuals who allegedly suffered acetaminophen-induced liver damage following the use of a Tylenol-brand medication. Their experiences echo the allegations put forth in the Tylenol lawsuits detailed by the Philadelphia Inquirer," says Bernstein Liebhard LLP, a nationwide law firm representing the victims of defective drugs and medical devices. The Firm is offering free Tylenol lawsuit reviews to individuals who may have been harmed by any Tylenol-brand medication.
Tylenol Liver Damage Allegations
According to the Philadelphia Inquirer, acetaminophen is the active ingredient in dozens of Tylenol-brand medicines, as well as more than 600 other products such as Sudafed, Robitussin, NyQuil, Cepacol and Coricidin. Evidence has been mounting since the 1960s that acetaminophen can pose a severe risk to the liver. In 1977, a panel of outside advisors recommended that the U.S. Food & Drug Administration (FDA) set a "standard dose" of no more than 325 milligrams of acetaminophen in any one pill, and include a warning about liver damage on all medications that contain the ingredient.*
In 2011, the FDA announced that it would limit the amount of acetaminophen in prescription medications to 325 mg per tablet. According to a notice posted on the Federal Register, the new limits went into affect on January 14, 2014. However, according to a recent Bloomberg.com report, over-the-counter Extra Strength Tylenol caplets each contain 500 mg of acetaminophen, well over the new limits for prescription medications set by the FDA. Last summer, McNeil announced that it would add new, more prominent warnings regarding the risk of liver damage to the labels of Tylenol-brand medications.**
According to court documents, all of the Tylenol lawsuits pending in the Eastern District of Pennsylvania allege that use of Tylenol-brand medications caused plaintiffs to suffer liver injuries severe enough to result in hospitalization, liver transplantation, and even death. Many of the complaints also allege that acetaminophen-induced liver damage occurred even when Tylenol products were used in accordance with package directions.
Alleged victims of Tylenol and liver damage may be entitled to compensation for injury-related damages, including out-of-pocket medical expenses, lost wages, pain and suffering, and more. To learn more about filing a Tylenol lawsuit, please visit Bernstein Liebhard LLP's website. To arrange for a free legal review, please call 800-511-5092.
*articles.philly.com/2014-02-17/news/47382323_1_acetaminophen-poisoning-tylenol-maker-kate-trunk, Philadelphia Inquirer, February 17, 2014
**bloomberg.com/news/2013-08-29/j-j-adds-warning-to-tylenol-caps-on-acetaminophen-risk.html, Bloomberg.com, August 29, 2013
About Bernstein Liebhard LLP
Bernstein Liebhard LLP is a New York-based law firm exclusively representing injured persons in complex individual and class action lawsuits nationwide since 1993, including those who have been harmed by dangerous drugs, defective medical devices and consumer products. The firm has been named by The National Law Journal to the Plaintiffs' Hot List, recognizing the top plaintiffs firms in the country, for the past 12 consecutive years. Bernstein Liebhard LLP is the only firm in the country to be named to this prestigious list every year since the list was first published in 2003.
Bernstein Liebhard LLP
10 East 40th Street
New York, New York 10016
800-511-5092
ATTORNEY ADVERTISING. © 2014 Bernstein Liebhard LLP. The law firm responsible for this advertisement is Bernstein Liebhard LLP, 10 East 40th Street, New York, New York 10016, 800-511-5092. Prior results do not guarantee or predict a similar outcome with respect to any future matter.
Contact Information:
Felecia L. Stern, Esq.
Bernstein Liebhard LLP
info(at)consumerinjurylawyers(dot)com
http://www.tylenollawsuitcenter.com/
https://plus.google.com/115936073311125306742?rel=author