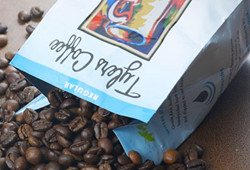 Enjoy 15% off all coffee in store till Thursday, save your stomach this Valentines week during the launch sale.
Tucson, AZ. (PRWEB) February 10, 2015
Tylers Coffee has officially lowered its price for the first time! Savor the savings this Valentines week by enjoying 15% off all coffee in their online store till Thursday.
With Valentine's Day around the corner, it's time to brace for the sweet equilibrium to derail these next few days. According to new research released on November 25, 2014 in WebMD, heartburn drugs such as Prilosec and Nexium could be disrupting the makeup of bacteria in the digestive system, potentially boosting the risk of infections and other problems.
"Despite years of safe and effective use, in recent years there have been an increasing number of reports suggesting potentially harmful effects and harmful associations with their use," DiBaise stated.
So what do instead? Avoid the heartburn worries this Valentines Day with an acid-free coffee.
Acid has always has been lurking in the shadows, hidden in plain sight, ready to wreak havoc on what make the body function at its highest potential. However, Tylers Coffee is here to tip the scale, savoring the buzz in the healthiest of fashions.
An incredible increase of volume in 2014 has led the company to a next stage of growth, passing the savings on to us coffee lovers. According to a company representative lowering the price has always been a huge goal for Tylers Coffee, but quality of product could never be sacrificed in order to obtain it. However thanks to incredible growth this past year, the first step towards this goal can finally be made while maintaining the same quality in every cup.
Drink Different. Drink Smart. Drink Tylers Acid Free Coffee.