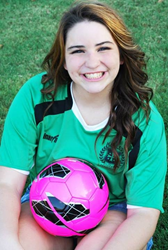 The peace of mind her [Courtney] and her family can enjoy through the many benefits of having a service dog is really priceless to them, and we will do everything in our power to help make that a reality.
Dallas, TX (PRWEB) August 22, 2014
ProVest Insurance Group debuts the new charity campaign in its recognized Community Program in Texas, North Carolina and South Florida, and announces that will direct its efforts to raise funds for Type 1 diabetes patient, Courtney Austin. The earnings of the campaign will be used to purchase a trained service dog, which will help Courtney manage her blood sugar levels, as well as react to her need of medical assistance in possible emergency situations. Donations are being accepted through the campaign's page at http://www.gofundme.com/bringhomeaspecialfriend.
According to the agency's principal, Jay Adkins, Courtney was diagnosed with Type 1 diabetes at the young age of 10. During the past 5 years, Courtney has undergone treatment for low glucose levels, kidney malfunctions, and other diabetic related issues that continue to attack her young body.
Despite the rareness of the disease, with only 5% of diabetes patients presenting that type, just a few months ago, Courtney lost a friend of her same age to Type 1 diabetes. Such painful loss and reality prompted the Austin family to look for options in preventing that same outcome for their daughter. They then learned about the Drey's Alert Dogs (D.A.D) program, dedicated to train service dogs with the specific purpose of helping those with Type 1 diabetes. The specifically selected dogs are taught to alert their owners of their sugar level changes, as well as other dangers and risks their natural instincts are capable of sensing. Not only that, they are also fully prepared to act in case of an emergency, by retrieving medication, and even dialing 911 from a special device.
"This is a serious condition, and one very hard to cope with, especially at such young age. Even though Courtney is an active soccer player and an upbeat young lady, she lives with fear, not knowing when her body might fail her," said Jay Adkins, the Agency's principal. "The peace of mind her and her family can enjoy through the many benefits of having a service dog is really priceless to them, and we will do everything in our power to help make that a reality."
Through the agency's network of customers, business partners, friends, staff and family, the initiative to spread the word about Courtney's need will also bring awareness about Type 1 diabetes. ProVest Insurance Group will employ its valuable resources and reach out to the community, appealing on behalf of the Austin family, so that the $500 goal can be met, and Courtney's dream come true. The campaign will be promoted over the course of the next 30-90 days, through the agency's social media channels, email and text message communications, as well as through their monthly magazine, delivered to thousands of households in Texas, North Carolina, and South Florida, where the agency currently operates. Our Hometown magazine reserves a full page to feature Courtney's story, and other details. The electronic Flipbook version of the current issue can be accessed here: http://www.provestinsurance.com/Our-Hometown-Magazine_10.
Those with a heart for helping the community, and bringing awareness to important subjects such as Type 1 diabetes are encouraged to visit http://www.gofundme.com/bringhomeaspecialfriend, and also share the page with friends and family. The agency will acknowledge those who contribute in their monthly magazine.
The Community Program held by ProVest Insurance Group will continue to highlight and support people in need in their community. Every 30-90 days, a new campaign will be launched, in collaboration with local non-profits and community members. Through the agency's website, an open channel is also now open, where individuals can submit information on known families or persons who could use some help – http://www.provestinsurance.com/Add-Community-Cause_25. All entries are submitted for review, and the elected worthy causes are properly contacted by a representative of ProVest's Community Program. More information regarding past and current campaigns supported by ProVest Insurance Agency can be found at http://www.provestinsurance.com/community-cause.
About ProVest Insurance Group
ProVest Insurance Group's mission as a team is to provide the best insurance and financial services in the industry. Their number one job is to protect the current assets clients have worked so hard for, and to help them invest so they can retire with the right amount of money. ProVest's success is measured by customer satisfaction and the value they bring. The capable agents at ProVest can be easily reached at 1-855-298-7427.