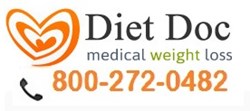 Unlike competing, outdated hormone diets which rely on only 500 calories daily, Diet Doc's prescription hormone diet plans allow patients to consume up to 1250 calories per day without compromising results.
Chicago, IL (PRWEB) November 11, 2013
Millions of Americans will be diagnosed with type 2 diabetes this year and many more are unaware that they are at high risk. Learning to eat healthy, avoiding sugary, high calorie foods and losing excess weight play a key role in managing this disease, as well as avoiding its development. A study that was performed by Johns Hopkins, published in the journal Diabetes Care, and reported by Medical News Today, reveals that young and middle-aged women already diagnosed with type 2 diabetes are also at a much greater risk of developing coronary artery disease. Diet Doc's prescription hormone diet plans teach patients how to manage this disease by fueling the body with nutritious food choices and losing excess weight, preventing type 2 diabetes from setting in, and hopefully lowering women's risk for heart disease in the process.
Insulin is a hormone that delivers glucose to the body's cells. When a person is overweight, the cells become less sensitive to insulin, therefore, a greater amount is required to maintain blood glucose levels in the body. Because the pancreas must work overtime to produce these greater amounts of insulin, it can become sluggish and overworked. The release of insulin can slow or stop, leading to diabetes.
The most sensible solution to manage type 2 diabetes and to reduce the risk of developing this disease is to eat sensible and healthy portions and lose excess weight by following a medically guided, safe and effective diet plan. Diet Doc offers patients the opportunity to lose weight safely and rapidly which leads to improved blood pressure control, less strain on the heart and improved blood sugar levels, all of which are of great concern to type 2 diabetes patients.
To help patients make healthy, low calorie food choices, the company's certified nutritionists will work closely with each patient to teach proper nutrition and calorie content of foods that will help them lose weight fast and keep the body functioning properly. Each diet plan is uniquely designed considerate of the patient's age, gender, metabolism, activity level, while also being compatible with almost any medical condition, including type 2 diabetes.
Unlike competing, outdated hormone diets which rely on only 500 calories daily, Diet Doc's prescription hormone diet plans allow patients to consume up to 1250 calories per day while incorporating a wide range of delicious and nutritious food choices without compromising results. The diet plans are easy to follow and interesting and the fast weight loss motivates the patient to continue to follow the program. Patients are reporting that they are looking and feeling better than ever before while noticing the very rapid loss of pounds and inches in areas that are typically the most stubborn to lose, such as the belly, underarms, hips and thighs.
Diet Doc offers incomparable services to dieters across the country, delivering a consistent effective prescription hormone diet plan directly to patients' doors. Each patient receives a weekly checkup call to assess progress. This level of personal service allows doctors to alter diet plans if results begin to taper and to quickly identify and resolve any barriers that may be stalling fast weight loss.
Patients who comply and successfully complete Diet Doc's prescription hormone diet plans typically enjoy healthier eating habits by consuming more raw, natural foods and utilizing healthier preparation methods, thereby achieving a healthier weight, helping patients with type 2 diabetes to manage their disease, while helping others to reduce the risk for its development.
The expert fast weight loss professionals at Diet Doc have become the nation's leader in prescription hormone diet plans by helping thousands of Americans reduce their weight and avoid countless weight related diseases, including Type 2 diabetes, by offering practical, sensible fast weight loss solutions that are safe and effective.
Diet Doc Contact Information:
San Diego, CA
(800) 272-0482
Weight-loss(at)Dietdoc(dot)info
http://doctorsupervisedweightloss.com/testimonials.php
Twitter: DietDoc10
Facebook: DietDocNaturalHealth