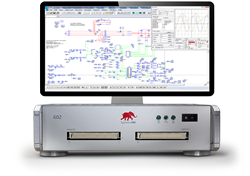 Rockville, MD and Cambridge, MA (PRWEB) February 25, 2014
Powersim and Typhoon-HIL are pleased to announce the strategic partnership to offer a complete power electronics model based development, simulation, rapid prototyping, and test platform.
Typhoon HIL is the technology leader in ultra-high fidelity hardware-in-the-loop (HIL) emulators for power electronics and motor drive applications. Typhoon HIL systems, enable the most comprehensive testing of controller hardware/firmware/software in Hardware-in-the-Loop configuration, with the power stage simulated in real-time with extreme fidelity. In addition, to facilitate controller implementation, Typhoon provides a DSP Interface Board and DSP micro-Grid Interface Board, based on TI F2833x/2803x DSP, to run and test control code before the controller hardware is developed, i.e. rapid control prototyping. With the PSIM-Typhoon HIL complete solution, one can design and extensively simulate the whole system off-line in PSIM first. Then use PSIM's auto code generation capability to generate the control code automatically, and port the code on either the customers real-controller hardware or Typhoon's DSP Interface Board that is directly interfaced with HIL that simulates power stage in real-time.
Powersim – Typhoon HIL complete power electronics development, rapid prototyping, and test solution will help power electronics engineers to significantly accelerate development and test cycle, improve the quality of the controller software, reduce development costs, and minimize time-to-market.
About Powersim Inc.
Powersim is a market leader in simulation and design tools for power electronics research and product development in: power supplies, motor drives, and power conversion and control systems. Powersim products provide the finest analysis and design tools to the industry. We strive to increase customers' efficiency and productivity by delivering software that reduces the development cost and time-to-market. Since its first release in 1994, our flagship product PSIM has evolved from a simple power electronics simulator to a powerful simulation platform that offers comprehensive simulation and design capabilities for various applications. For more information, visit http://www.powersimtech.com.
About Typhoon HIL, Inc.
Typhoon HIL is a technology leader in ultra-high fidelity Hardware-in-the-Loop (HIL) real-time emulators for power electronics. The company was founded in 2008, and since then, it has consistently been introducing new design, test, and verification Hardware-in-the-Loop products distinguished by leading edge technology, unrivaled performance, ease of use, and affordability. With a growing list of global clients in industries including renewables, industry automation, oil and gas, energy storage, and automotive, Typhoon-HIL has emerged as the industry leader in automated test and verification of power electronics control systems. For more information, visit http://www.typhoon-hil.com.