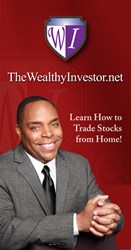 Your wealth is in your thinking.
Los Angeles, CA (PRWEB) November 14, 2013
Tyrone Jackson, The Wealthy Investor, would like to announce a special opportunity to participate in his online workshop, "Generate Monthly Income Trading Stocks from Home." For a short time, investors will be able to purchase his workshop, which is normally priced at $495, for only $99.
In addition to the workshop, which is a seven-day online stock trading course that includes four 30-minute audio lessons aimed at teaching self-directed investors how to invest and trade with confidence, potential investors will also have access to a live question and answer session with Tyrone on Tuesday, November 19th.
Many people think that they don't have the time and ability to attend investing classes, and even more feel that smart investing is too far out of their reach. Tyrone Jackson disagrees. "Your wealth is in your thinking," he says. His online trading series, "Generate Monthly Income Trading Stocks from Home" is designed to expose both the experienced and novice traders at their own pace and from the comfort of their own home.
In this course, Tyrone will cover:
-How to develop a millionaire mindset
-Why investors should get rid of Mutual Funds forever and focus on trading stocks
-How to earn thousands of dollars every month selling covered calls
-How anybody can earn fast and easy money via volatility trading
-How to increase dividends every three months
-How to exponentially grow a retirement fund.
Tyrone says, "Trading and investing in the stock market is not difficult once you have been exposed to a trading system that consistently works. The good news: no matter what size your trading account may be, you can manage your portfolio the same way a successful hedge fund does to achieve well above average returns year after year."
Tyrone is eager to share his hard-learned investing lessons to anyone interested in stock trading, no matter what level of knowledge they have. "If you are not yet trading stocks, you'll be amazed at how easy it is to get started," he says. "You don't need to be a sophisticated Wall Street type to master investing—you simply need a financial education."
For more information, visit http://www.wievents.net.
About
Tyrone Jackson, Wealth Coach & Founder of "The Wealthy Investor," has helped hundreds of people project themselves into a wealthy life. Raised by a single mother of modest means across the bridge from New York City, with Wall Street in sight; it might as well have been a million miles away. "We had no money at all," Tyrone remembers of his upbringing. "I'd see on TV all these self-made millionaires. I said to myself, 'This is a great country– how do I do that?'" Tyrone took charge and now splits his time between his 10-acre estate in upstate New York and his home in Malibu while leading seminars for "The Wealthy Investor" - educating others on how to take control of their financial future.