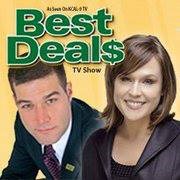 What people get when they come to the Wealthy Investor class is a financial education that they did not get in college and in high school.
Los Angeles, CA (PRWEB) November 21, 2013
The Wealthy Investor's founder, Tyrone Jackson, is pleased to announce that on Saturday, November 23rd, Best Deals LA will feature The Wealthy Investor. Best Deals LA highlights Southern California businesses that offer exceptional products, prices, and/or high-quality service. The segment will air on KCAL Channel 9 TV in Southern California and on BestDealsTVShow.com.
The TV segment features long-term and new Wealthy Investor clients who share one common experience: they, like thousands of others, have experienced tremendous financial growth using The Wealthy Investor program. One investor, Darcy, relates that after a devastating stock market loss twenty years ago, she's successfully returned to trading using techniques taught by The Wealthy Investor. Another, Randy, says that the additional income generated using these techniques helped him pay for his son's college.
Jackson describes financial education, stating, "What people get when they come to The Wealthy Investor class is a financial education that they did not get in college and in high school." He adds, "People should get a financial education because our whole life revolves around money. Whether it be retirement, taking care of ourselves, taking care of our families, paying our bills, it's all related to everything that is financial."
The Wealthy Investor allows seasoned investors and new traders to generate monthly income through stock market trading using the strategies and secrets provided by the program. The program covers a number a topics as small, manageable units, for example:

What are the basics of long-term investing?
How to generate thousands of dollars in monthly income through selling covered calls.
How to exponentially grow dividend income.
Why you should manage your own money.
Why trading stocks beats investing in mutual funds.
What is risk?
What risk is right for the investor?
Within ninety days of purchasing The Wealthy Investor, clients are usually online and trading.
To view the segment, visit http://www.bestdealstvshow.com/companies/33-current-show/1022-the-wealthy-investor.
About
Tyrone Jackson, Wealth Coach & Founder of "The Wealthy Investor," has helped hundreds of people project themselves into a wealthy life. Raised by a single mother of modest means in Staten Island, N.Y., with Wall Street in sight; it might as well have been a million miles away. "We had no money at all," Tyrone remembers of his upbringing. "I'd see on TV all these self-made millionaires. I said to myself, 'This is a great country– how do I do that?'" Tyrone took charge and now splits his time between his 10-acre estate in upstate New York and his home in Malibu while leading seminars for "The Wealthy Investor" - educating others on how to take control of their financial future.
For more information, visit: http://www.thewealthyinvestor.net.