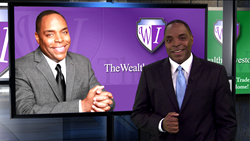 The internet, along with the speed of hand held devices, has brought Wall Street to Main Street.
Los Angeles, CA (PRWEB) March 04, 2014
Tyrone Jackson, Wealth Coach and founder of The Wealthy Investor program (http://www.thewealthyinvestor.net), is known for teaching Hollywood entertainment professionals how to invest and trade in the stock market. With his new 28 minute Infomercial for his complete Financial Freedom System, he is hoping to reach more people than just the Hollywood set. Airings begin on Wednesday, March 5th on the Aspire TV network where Jackson and his message will reach millions of viewers. His goal: to help as many as possible change their life by becoming financially educated.
With record numbers of college students graduating with mountains of debt and unemployment still at historical highs, most Americans would benefit from learning how to put their money to work for long term gain. If you are lucky enough to be gainfully employed in 2014, even a six-figure paycheck may not be enough to raise a family, save for retirement and purchase a home. As the middle class has discovered, in the 21st century, you need investment income to live the American dream. Even the rich and famous are getting financially educated to insure that their money is put to work for them.
"The internet, along with the speed of hand held devices, has brought Wall Street to Main Street" says Jackson. Now anyone can be successful trading and investing in stocks online using the information and resources available through technology." With his Wealthy Investor program, for the past six years Mr. Jackson has been teaching self-directed investors in Los Angeles, San Francisco and New York how to earn money every month trading stocks online part time. His infomercial for his Financial Freedom System is the natural next extension of this mission.
Tyrone Jackson's Financial Freedom System includes the Wealthy Investor's Guide to Stock Market Success 4 CD Audio Program plus several special bonuses:

2 Tickets to the Next Wealthy Investor Live Event (normally $249 each)
Think Like a Millionaire Audio CD
Tyrone Jackson's Special Stock Market Report (includes the top stocks he is using to trade)
Cash for Real Estate Audio CD
For more information visit: http://www.mywiguide.com.
ASPIRE TV is available in approximately seven million homes and in 16 of the top 25 African-American markets including New York City, Atlanta, Chicago and Washington, DC.
About:
Tyrone Jackson, Wealth Coach & Founder of "The Wealthy Investor," has helped hundreds of people project themselves into a wealthy life. Raised by a single mother of modest means across the bridge from New York City, with Wall Street in sight; it might as well have been a million miles away. "We had no money at all," Tyrone remembers of his upbringing. "I'd see on TV all these self-made millionaires. I said to myself, 'This is a great country– how do I do that?'" Tyrone took charge and now splits his time between his estate in upstate New York and his home in Malibu while leading seminars for "The Wealthy Investor" - educating others on how to take control of their financial future.