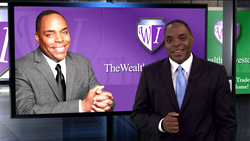 With a financial education, everyone can easily manage their own money and most will achieve better returns this way.
(PRWEB) March 05, 2014
Leonardo Dicaprio thrilled movie audiences recently with his portrayal of a Wall Street stock broker gone wild in The Wolf of Wall Street. This movie depicted an extreme example of why it is often not the best choice to turn your money over to someone else to manage as they may not have your best interests at heart. According to Tyrone Jackson, creator of The Wealthy Investor program, "With a financial education, everyone can easily manage their own money and most will achieve better returns this way."
Through his classes offered in New York, Los Angeles and San Francisco, Mr. Jackson has spent the past seven years teaching individual investors how to do just that. Now, to help bring awareness to his products and classes, Mr. Jackson has created an infomercial titled "Financial Freedom" which begins airing nationally this week on networks such as The Cooking Channel and ESPN Classics.
The film "The Wolf of Wall Street" does raise the question of a level playing field for the small investor. Jackson says, "The good news is that you don't have to be a major player on Wall Street to earn six figures trading stocks even part time." Many of Tyrone's students replace their earned income with a stock trading income and become financially free, working only if they want to, not because they have to.
Every five years or so Hollywood rediscovers Wall Street and the entertainment value that comes from the depiction of excess, greed and a million dollar life style. But for most of us looking to earn additional income, learning how to properly manage money is serious business. With US employment still at an all-time high, there are millions of Americans searching for the knowledge of how to generate monthly income from their investments.
Tyrone Jackson is one of the stand out teachers in a growing cottage industry of highly successful traders who have never worked on Wall Street but have taken up the task of educating others as to how lucrative, and easy, trading stocks online from home can actually be.
Mr. Jackson's Financial Freedom System includes The Wealthy Investor's Guide to Stock Market Success 4 CD Audio Series on which investors will learn:
•Proven strategies to generate monthly income through trading in the stock market part time
•How to supercharge your retirement account
•How to exponentially increase your dividend checks on Dow stocks
Plus several special bonuses:
•Two tickets to the next Wealthy Investor Live Event
•Think Like a Millionaire Audio CD
•Cash for Real Estate Audio CD
•Tyrone Jackson's Special Stock Market Report (includes the top 5 stocks he uses to trade)
For more information visit: http://www.mywiguide.com.
About:
Tyrone Jackson, Wealth Coach & Founder of "The Wealthy Investor," has helped hundreds of people project themselves into a wealthy life. Raised by a single mother of modest means across the bridge from New York City, with Wall Street in sight; it might as well have been a million miles away. "We had no money at all," Tyrone remembers of his upbringing. "I'd see on TV all these self-made millionaires. I said to myself, 'This is a great country– how do I do that?'" Tyrone took charge and now splits his time between his estate in upstate New York and his home in Malibu while leading seminars for "The Wealthy Investor" - educating others on how to take control of their financial future.