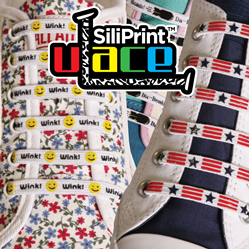 ROCHESTER, N.Y. (PRWEB) March 21, 2019
U-Lace No-Tie Sneaker laces introduced it's new SiliPrint graphic print U-Laces for Spring 2019. After years of seeking a decorating technique that would hold up to the stretchiness of its modular no-tie laces, U-Lace finally cracked the imprint code with a special, new rubbery silicone printing technique that applies sharp, yet stretchy, graphics to its dual-patented no-tie laces.
The initial line of SiliPrint laces offered to consumers through its website and to retailers includes: Stars & Stripes, Wink-Wink, Waves, 100!, Leopard and Da Bomb!.
For the first 10 years of its existence, U-Lace has offered a huge color selection of over 50 colors of its modular no-tie laces to the marketplace, helping to lace over 15 million pairs of sneakers; but always lacked the ability to provide high resolution graphical imprints on its laces, something widely available on standard, long non-stretch laces. Sublimation processes had the ability to place full color graphics on the laces, but provided a surface print that faded incrementally as the material was stretched and this was a non-starter for U-Lace.
"With SiliPrint, we now have the ability to put incredibly detailed and sharp graphics on our modular laces that actually stretch as the laces stretch, without compromising the graphic design on the laces, said CEO Tim Talley. "This was the breakthrough that we have been searching for the past 5 years. And we finally did it!"
SiliPrint now gives teams, schools, colleges & universities, theme parks and other organizations, the ability to sport custom logo and graphic prints on sneaker laces with all of the benefits of no-tie woven laces.
About U-Lace: U-Lace is a global, modular, no-tie lace brand and has been in business for 10 years. Since being featured on Shark Tank in 2014, U-Lace has grown into a successful business which brings innovative products to the previously-limited shoelace industry. Its no-tie laces have sold over 15 million sets worldwide.