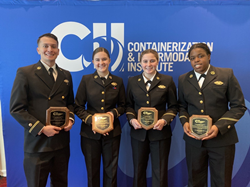 JACKSONVILLE, Fla. (PRWEB) January 12, 2023
Four U.S. Merchant Marine Academy (USMMA) cadets were awarded with Thomas B. Crowley Sr. Memorial Scholarships during the Containerization and Intermodal Institute's recent Connie Awards in Newark, New Jersey.
The scholarships were awarded for exemplary work during their terms aboard Crowley-owned or -managed vessels as well as their interest in pursuing a maritime career. Each cadet, through their service at sea, education and extracurricular commitments exemplifies Crowley's values of sustainability, integrity and drive. The awardees at the Dec. 5 event are:
Layne DeEtte Andersen is a midshipman second class from Colorado Springs, Colorado, studying maritime logistics and security. Andersen is a member of USMMA's swimming and diving team. Completing her sea year aboard the Crowley-managed cargo ship MV Ocean Glory, she plans to sail commercially with her Third Mate Unlimited Tonnage license upon graduation.
Midshipman Second Class Bryanne Buchanan-Cummings, of Dacula, Georgia, is pursuing a bachelor's degree in marine engineering. Buchanan-Cummings is a member of the academy's Cultural Diversity Club and the USMMA Kappa Pi Lambda Club, which works to ensure fair treatment of all midshipmen while on campus and at sea. Buchanan-Cummings sailed aboard the Crowley-managed cargo ship MV Ocean Freedom for 115 days.
Midshipman First Class Caroline Opager, of Milton, Florida, is pursuing a bachelor's degree in marine engineering. Opager is a member of various USMMA clubs, including the Propeller Club, Kappa Pi Lambda Club and Welding Club, and the academy's varsity offshore sailing team. Opager sailed aboard the Crowley's LNG-fueled container ship MV Taino, and upon graduation, plans to sail commercially with her Third Assistant Engineer Unlimited license.
Isaiah Christopher Sera is a midshipman first class from Hacienda Heights, California, pursuing a degree in marine transportation. Sera is a member of the USMMA track and field team and is the president of the academy's Professional Careers Club. During his sea term, he served on the Crowley-manage MV Delaware Express containership. Upon graduating, Sera expects to sail under a Third Mate Unlimited Tonnage license.
To support the development of future maritime leaders, Crowley has provided more than $3 million dollars in financial assistance to more than 1,000 students studying at maritime academies and other select schools in the U.S. mainland and Alaska, Puerto Rico and Central America since 1984.
About Crowley
Crowley is a privately held, U.S.-owned and -operated maritime, energy and logistics solutions company serving commercial and government sectors with more than $2.9 billion in annual revenues, over 170 vessels mostly in the Jones Act fleet and approximately 7,000 employees around the world – employing more U.S. mariners than any other company. The Crowley enterprise has invested more than $3 billion in maritime transport, which is the backbone of global trade and the global economy. As a global ship owner-operator and services provider with more than 130 years of innovation and a commitment to sustainability, the company serves customers in 36 nations and island territories through five business units: Crowley Logistics, Crowley Shipping, Crowley Solutions, Crowley Wind Services and Crowley Fuels. Additional information about Crowley, its business units and subsidiaries can be found at http://www.crowley.com.