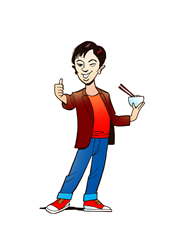 We would like to express our deepest gratitude for the donation to our church. We thank Karman Foods for providing this much assistance. It will certainly benefit the Asian community in Queens and Brooklyn.
PLAINVIEW, N.Y. (PRWEB) August 13, 2021
Karman Foods, the U.S.-based Asian grocery store best known for its online reviews and recipes of Asian food, today announced a substantial food products donation to the New Life Chinese Alliance Church of New York located in Flushing, Queens, in New York City. The donated products include sauces, marinades, and ready-to-use noodles and noodle bowls and have a value of $7,000. They were contributed for the church to distribute to needy community members with no restrictions on their use.
"Although we sell and deliver Asian groceries nationwide via our Karman Foods website, our home base will always be the New York City metropolitan area. We want to give back to our community as often as we can," said Karman Cheung, Founder, and CEO, Karman Foods. "The pandemic made last year one of the toughest ones in memory for most people, especially recent immigrants and people trying to work their way up – and the challenging times aren't over yet. We understand it and try to be of help."
The Reverend Jiaji Sun is the Pastor of the New Life Chinese Alliance Church of New York and expressed gratitude for the food products contribution from Karman Foods. "We would like to express our deepest gratitude for the donation to our church. We thank Karman Foods for providing this much assistance. It will certainly benefit the Asian community in Queens and Brooklyn."
About the Asian Food Products Donated
The substantial food product donation included two palettes of groceries and several highly popular noodle, sauce, and marinade items. Korean BBQ sauce, bulgogi marinade, flavored ramen (noodles), flavored stir-fry noodles, and udon (noodle bowls) were on the palettes for the church to distribute to anyone in need in the Queens and Brooklyn areas of New York City. Since the beginning of the coronavirus pandemic, food assistance programs provided by churches and governmental agencies have seen unprecedented demand.
About Karman Food Online Asian Market
Karman Foods is one of the fastest-growing U.S.-based specialty food retailers on the internet today. It's Karman Foods online Asian market is famous for a curated selection of Asian groceries representing the culinary traditions of China, Korea, Japan, Thailand, Vietnam, and the Philippines. With home delivery to any U.S. address, the Karman virtual grocery store is an ideal alternative for anyone who prefers the convenience of online shopping or lacks a high-quality Asian supermarket in their local community.
Karman Foods provides online grocery shoppers with money-saving options such as economy sizes and case-packs in addition to everyday competitive prices. It offers free home grocery delivery on all orders of $50 or above and provides a website conveniently arranged for quick shopping. Unlike other retailers offering products at many quality levels, Karman selects only the best and highest quality. The goal is to make it easier for anyone who cooks Asian recipes at home to provide authentic taste and flavor.
The Karman Foods YouTube channel is a popular online destination for Asian food reviews, product demonstrations, and cooking presentations. It introduces shoppers or anyone interested in Asian food to new products and innovative uses for those already well-known and loved. Many videos are connected to pages that make it easy to order the items mentioned in the video presentations, all of which are produced in a fun, easy-to-watch format. They are an extension of the Karman mission to help make Asian flavorings and recipes more widely understand and cooked at home in the United States.
About the Karman Foods Web Asian Grocery Store
The Karman Asian market online is arranged to make it easy for shoppers to browse, compare products, read more information, and sort by country or product type. It anticipates that home cooks can buy the fresh vegetables and meats they need locally but may have difficulty finding authentic Asian seasonings and flavorings. It also features specialty products that are more of interest to Asian food lovers and home cooks, such as premium rice and imported teas – items not easy to find in conventional supermarkets or wholesale clubs.
Pan-Asian cooks can sort sauces, marinades, and seasonings by category and compare products representing multiple culinary traditions. Those interested only in products connected to a single country can sort by nation. The sorting capabilities are unlike other online Asian grocery retailers and provide a convenient shopping experience. The e-store is continually improved and updated to reflect current shopping trends and consumer tastes. The Karman Foods' mission is to innovate and provide the best customer shopping experience.