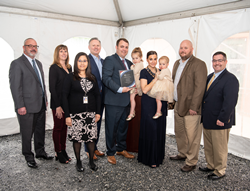 "We owe our success to a company-wide philosophy of delivering a superior customer experience and professionalism to maintain clients from year to year" says Matt Jesson
WEST CHESTER, Pa. (PRWEB) May 22, 2019
Green Lawn Fertilizing/Green Pest Solutions owner and president Matt Jesson was awarded the Small Business Administration Entrepreneurial Success of the Year Award for his efforts in growing the company over the last 15 years.
Small Business Administration's (SBA) Eastern Pennsylvania District Office was on site at Green Lawn Fertilizing/Green Pest Solutions headquarters in West Chester, PA to present this prestigious award to Matt Jesson and the team. There were nominees spanning across 40 counties in the region and Jesson was selected as the winner. The nomination for this award came from Seedcopa, a private nonprofit which helps small to mid-sized businesses obtain government loans.
"Being nominated and awarded by the people who helped fund our headquarters construction ten years ago is incredibly rewarding. As we have grown there have been numerous hurdles trying to take our business to the next level. The entire team at Green Lawn Fertilizing/Green Pest Solutions has been incredible throughout this journey" says Matt Jesson.
Jesson stood out among the other nominees for the Entrepreneurial Success Award due to his company's success and his compelling entrepreneurial story. He started his first business, Jesson Landscaping when he was only 12 years old. He was able to grow that business throughout high school and college to a point where he had several employees servicing over 150 accounts. In 2004, still only in his mid-twenties, Jesson decided to make a huge shift in his business when he transitioned from landscaping to lawn care with the establishment of Green Lawn Fertilizing.
With the help of Seedcopa and the SBA, Jesson was able to secure a loan in 2010 to help purchase and upgrade the company's West Chester headquarters. When the loan was funded in 2010, Green Lawn Fertilizing had only 38 employees and no pest control business. The company produced about $5 million in revenue at the time. Fast forward 10 years and the company has more than tripled in size. Green Lawn Fertilizing currently has over 170 employees and produced over $15M in revenue last year. In 2012, the business added Green Pest Solutions (a dedicated pest and termite business) and have expanded to multiple branches throughout Pennsylvania and New Jersey.
Strong company values along with amazing team members have been a vital part of the successful Green Lawn Fertilizing/Green Pest Solutions formula. Jesson credits delivering on his company's mission.
"We owe our success to a company-wide philosophy of delivering a superior customer experience and professionalism to maintain clients from year-to-year." Between the two company's brands they have over 3,000 five star or A rated reviews on 3rd party websites from happy customers.
Fueled by its culture of customer service, Green Lawn Fertilizing/Green Pest Solutions is on an upward trajectory rarely seen in the lawn care or pest control industries. The company grew by over 22% in 2018 and is looking at a real possibility to reach $20 million in revenue by the end of 2019.
The company is growing so fast that office space is becoming an issue. To facilitate the company's growth, a huge real estate plan has been put in place which includes new branch buildings in both PA and NJ and expansive renovations to the company's West Chester headquarters.
Green Lawn Fertilizing and Green Pest Solutions is an independent lawn and pest control company that was founded in 2004. Under the leadership of Matt Jesson, President and Owner of Green Lawn Fertilizing / Green Pest Solutions, the company has grown to over 170 team members and over 100 service vehicles in its fleet. They have a mission to become the leader in the lawn and pest industry by providing superior customer service. Over the last several years, highly reputable publications have taken notice of the company succeeding in that mission. For six consecutive years the company received the Inc. 5000 award for being recognized as one of the 5,000 fastest growing private companies in the America. In 2018, Green Pest Solutions was named "Best of Philly Earth-Friendly Exterminator" by Philadelphia Magazine and in 2017 they were named "Best Pest Control" by Philly.com. In 2017, the company received the "Customer Service Excellence" Award by the Greater Philadelphia Chamber of Commerce.