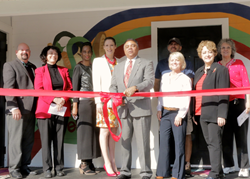 University Area residents can participate in cooking classes at the kitchen to learn how to prepare delicious and nutritious meals using fresh vegetables available in the Community Garden.
Tampa, FL (PRWEB) March 05, 2015
With more than a third of U.S. adults classified as obese, improving a community's access to healthy food is essential. When the University Area Community Development Corporation (UACDC) opened its Community Garden in November 2013, residents learned how to maintain the beds of leafy greens while cultivating an array of hearty vegetables. Last Thursday, Feb. 26, the UACDC took another step towards instilling healthy habits and cut the ribbon to officially open the Harvest Hope Center Kitchen.
Adjacent to the garden, the Harvest Hope Center Kitchen is located at 13704 North 20th Street and is designed to serve residents of the University Area. As a fully-functioning kitchen, the Harvest Hope Center Kitchen provides a classroom-like setting for lessons in nutrition and opportunities for cooking demonstrations using items found in the garden. Residents will learn how these items are not only delicious and nutritious, but also seasonal and affordable.
"We believe that educating residents about good nutrition can make a positive, long-term impact on those in our neighborhood," said UACDC's Executive Director and CEO Sarah Combs. "The opening of the Harvest Hope Center Kitchen is a key component in building and keeping a strong, healthy community."
Community partners and sponsors providing renovations, equipment, education and support for the Harvest Hope Center Kitchen include Florida Medical Clinic Foundation of Caring, Whitwam Organics, Westchase Rotary Club, Hillsborough County Sheriff's Office and Hillsborough County Code Enforcement.
For more information on upcoming classes and events at the Harvest Hope Center, or for details on the various services and programs available through the University Area Community Development Corporation, contact the UACDC at 813.558.5212.
About UACDC
The University Area Community Development Corporation, Inc. (UACDC) is a 501(c)(3) public/private partnership whose mission is children and family development, crime prevention and commerce growth. Its primary focus is the redevelopment and sustainability of the at-risk areas surrounding the Tampa campus of the University of South Florida. The UACDC was named Nonprofit of the Year for Public and Societal Benefit by the Tampa Bay Business Journal in 2011 and 2012. It is headquartered in the University Area Community Center Complex, owned by Hillsborough County and operated by the UACDC, which is located at 14013 North 22nd Street in Tampa. For more information about UACDC, please visit http://www.uacdc.org, or call 813.558-5212.