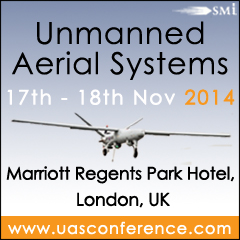 London (PRWEB UK) 28 July 2014
The Federal Aviation Administration is virtually at war with U.S. businesses trying to use small UAVs — unmanned aerial vehicles, or drones. The drone industry is frustrated, he said, "because they're ready to go. They're telling the FAA, 'Look, the United States is behind everyone else. We've got the technology and we're going to use it,' and the FAA is staying, 'You've got to slow down. We're not prepared to issue the regulations.'*"
Hear straight from the authorities about the current regulatory status regarding UAVs and where the industry is heading at the 14th annual Unmanned Aerial Systems conference.
Hear from the Civil Aviation Authority who will discuss regulation in greater detail during their presentation focusing on the 'Roadmap to integration'. Presentation highlights include:

Where are we now with regulation?
Outlining the future of small and medium unmanned systems: what are the technical challenges?
Future legislation plans for civilian airspace
Don't miss the chance to hear from a line-up of speakers including:
Lieutenant Colonel Craig Palmer, Commanding Officer, UAS Branch Leader, 32nd Regiment Royal Artillery
Major Geraldine Montgomery, Lead UAS Staff Officer for WATCHKEEPER, HQ Army
Major Derren Smith, UAS Training and Doctrine, HQ Army
Major Andy Taylor, SO2 UAS Plans, Capability Directorate Combat Support, HQ Army
WO2 Haigh, UAS Trials and Development, HQ Army
Daryl Ferguson, UMEX Maintenance lead, Unmanned Aerial Systems Technician, (NASC)Navmar Applied Sciences Corporation, Department of the Navy (NaVaIr 4.5x) Naval Air Systems Command
For further information and to view the full conference programme please visit http://www.uasconference.com or contact the team on +44 (0) 20 7827 6056.
---------------------ENDS-------------------
About SMi Group
The SMi Group is a highly professional, independent and global event-production company that specializes in Business-to-Business Conferences, Workshops and Masterclasses, and online Communities. The SMi Group creates and delivers events in the Defence, Security, Energy, Utilities, Finance and Pharmaceutical industries. For more information, please visit http://www.smi-online.co.uk.