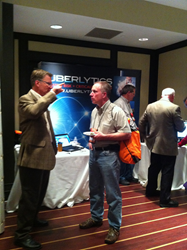 Phoenix, AZ (PRWEB) February 27, 2014
The annual OWAM Users Group Conference, FullCircle 2014 will be held next week at Oracle Headquarters in Redwood Shores. Uberlytics is pleased to be returning as an Industry Partner sponsor in 2014. This "for users, by users" grassroots user community event provides an opportunity for Oracle Work & Asset Management collaboration between fellow WAM colleagues and expert resources.
"The OWAM Full Circle conference is a great opportunity for us to meet with our clients and other users of Oracle to discuss how we can work together to find even better solutions, integrating their needs and our solution with Oracle for their overall AM program," said Tacoma Zach, CEO of Uberlytics "We look forward to another great conference this year."
About Uberlytics
Uberlytics provides best in class criticality analysis software and consulting to asset intensive organizations like refineries, complex industry, power utilities, and municipal water and wastewater utilities. The Uberlytics Criticality Analyzer™ is a sophisticated, highly configurable and powerful software tool for efficient and rapid facility-wide criticality analysis, designed to discover unidentified risk, and supports any ISO 55000 compliant AM program. Uberlytics also offers Service Interruption Risk Assessment.
Oracle Utilities User Group Conference / CC&B & WAM
The Oracle Utilities Work & Asset Management (WAM) and Customer Care & Billing (CC&B) User groups are "for-users, by users" grassroots professional groups that are dedicated to bringing together clients & partners to leverage and share the WAM & CC&B brain trust with the user community-at-large. The WAM and CC&B Users Groups host monthly community conference calls as well as an annual user group conference.