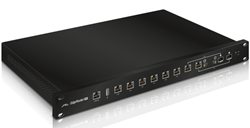 Research and develop is important to Ubiquiti, ensuring the product offerings are of the highest caliber.
Milwaukee, WI (PRWEB) June 29, 2015
Ubiquiti Networks brings enterprise- and carrier-grade equipment to small and medium-sized businesses, without the high cost. IP Phone Warehouse now offers everything from Ubiquiti routers to the new line of VoIP phones.
The Ubiquiti EdgeRouter PRO, for example, provides high-speed routing at over two million packets per second. Incredible hardware and software ensures that the network is running smoothly. Gigabit RJ45 ports, incredible uptime and fiber uplinks are just a few of the onboard features.
Managing the Ubiquiti router is accomplished through the EdgeOS user interface. Monitor and maintain network performance, and set up firewall and QoS rules. All that a network administrator needs is easily accessible through this web-based management application.
New to the Ubiquiti family are the UniFi series VoIP phones. Three models are available, including the UVP, the UVP PRO and the UVP EXECUTIVE. Android 4.4.2 "Kit Kat" gives the phones a familiar user interface and the ability to download applications from Google Play. The phones are compatible with SIP and other standards.
The Ubiquiti UniFi UVP PRO phone is outfitted with WiFi and Bluetooth. Connect the phone to a wireless network when cabling is unavailable, and conduct calls through a Bluetooth headset. The Ubiquiti UniFi UVP EXECUTIVE is equipped with a larger touchscreen, offering seven inches of real estate and tablet-like functionality.
Ubiquiti also builds network switches, wireless access points and IP cameras. Research and develop is important to Ubiquiti, ensuring the product offerings are of the highest caliber.
Discover Ubiquiti's IP and VoIP solutions at IP Phone Warehouse. Contact the free pre-sales technical support or sales channel at (888) 201-9056 by phone, or service(at)ipphone-warehouse(dot)com by email.
About IP Phone Warehouse
IP Phone Warehouse is the leading specialty reseller of VoIP phones, video conferencing equipment, IP cameras and network devices. We're stocked with everything that small businesses and enterprises need to deploy reliable VoIP and video solutions. A dedicated customer service team and a wide range of available online resources support every product at IP Phone Warehouse.