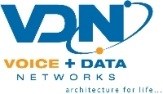 Minneapolis, MN (PRWEB) August 07, 2013
Voice & Data Networks (VDN) is excited to announce an exclusive event featuring Enterprise Unified Communications (UC) experts Blair Pleasant and Phil Edholm of UCStrategies. These industry leading analysts will be joined by Joe Hines, VDN CEO, on August 15th at 1pm CDT for a UC panel discussion to provide key insights on opportunities that Unified Communications as a Service (UCaaS) enables. The panel will cover a variety of emerging trends and strategies in the Unified Communications (UC) space that will arm businesses with knowledge to find their best approach to UC.
Hines first connected with Pleasant and Edholm when he attended the UC Summit in La Jolla, CA in April 2013. He said, "The folks at UCStrategies are truly seasoned experts in Unified Communications. After meeting a few of them at the UC Summit, I knew that their forward thinking perspective and knowledge would be very powerful for my clients." Hines goes on to say, "Participating in a live panel discussion with Blair and Phil will reveal both the perspective of an analyst and a systems integrator, giving viewers a more complete picture of the state of UCaaS today and how it will be leveraged in the future."
VDN will be hosting this live event using Google Hangout technology to broadcast this expert panel discussion. In this hour-long, interactive event, attendees will be able to ask questions and get answers from industry experts. The panelists will also be revealing exclusive offers, available only to the viewers present during the live broadcast. This is a unique opportunity that businesses of all sizes and industries can't afford to miss.
About Voice & Data Networks, Inc.
Voice & Data Networks, Inc. (VDN) is a technology solutions and managed service provider backed by two decades of designing, implementing, maintaining, and managing powerful converged communications networks for enterprise customers nationwide. VDN provides comprehensive service and support to small, medium, and large companies, resulting in exceptional customer service, improved productivity, and strategic business results. VDN takes pride in making communications applications return profitability and efficiencies to their customers.