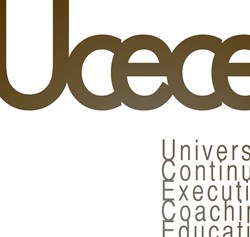 "Many of my cohorts often endorse lifelong learning, but don't often have the platform to share their knowledge... The UCECE is our opportunity as leaders in the industry to walk our talk."
New Jersey (PRWEB) September 25, 2013
The University of Continuing Executive Coaching Education (UCECE)©, a first-of-its-kind "professional university©" offering top-tier peer-to-peer continuing education from leading corporate executive coaches in the industry, announced today that it has brought five of the most innovative and visionary industry leaders together for the newly formed 2014-2015 Strategic Board of Advisors.
The inaugural Strategic Board of Advisors will join CB Bowman, CEO/Executive Director and master corporate executive coach with more than 20 years of experience. Bowman, the creative brainchild behind UCECE, is certainly no stranger to blazing new paths. Not only did she break multiple ceilings as one of the first female, minority executive coaches, she is founder of the Association of Corporate Executive Coaches, a global organization driving results-orientated standards to define the master-level executive coaching industry.
Bowman currently teaches at the Rutgers University Center for Management, with prior teaching stints at the Pace University Lubin School of Business, Mercy College and the Traphagen School of Design. She also has two distinguished certifications as a Master Corporate Executive Coach from the ACEC and Certified Master Coach through the Behavioral Coaching Institute. Having an acute focus on setting the bar for master-level executive coaches, there is no one is more skilled than Bowman at leading the University of Continuing Executive Coaching Education.
"I am truly amazed by the elite group we have on this newly created Strategic Board of Advisors," said CB Bowman, CEO of the Association of Corporate Executive Coaches©. "This Board is composed of proven business leaders at the top echelon of their respective industries, who are willing to share their collective experiences and knowledge with their cohorts; one of the pillars that the UCECE is founded upon.
Accompanying Bowman on UCECE's Strategic Board of Advisors are:
Barbara Singer Cheng, MCEC – Over the last 20 years, Barbara Singer Cheng has dedicated her work to developing internal and external coaches who make a positive difference at the highest levels of corporations. Cheng is a proven leader, heading a group of 100 global professionals with a mission of innovating professional development globally as the founder, president, and CEO of Executive Core®. High-profile clients such as Apple, Pfizer and GE Information Services put their faith in Cheng and her expertise in working with organizations to steer clear of mistakes as they evolve in their respective markets. A pioneer in the field of executive coaching, Cheng is an accomplished speaker, facilitator, and consultant responsible for recruiting and certifying a network of executive coaches and senior consultants throughout her career. She has recently served on the Board of the Executive MBA Council and has a strong academic background sharing her knowledge with students at Michigan State University, Purdue University Calumet, Kent State University, and most recently, at the University of Notre Dame.
Donna Karlin, MCEC, CEC, Diplomate IABMCP – Featured in Fast Company, New York Times, and The Boston Globe, Donna Karlin is best known as The Shadow Coach®, derived from her highly successful and innovative coach training program, which is accredited by the International Coach Federation. Sharing her knowledge of the industry is something Karlin does often; she is a SupporTED Coach, a member of the team that coaches TED Fellows and she teaches at a number of academic institutions including, The Telfer Centre for Executive Leadership, the Telfer School of Management, University of Ottawa, and the Australian Psychological Society. Her sharing of industry knowledge isn't limited to the classroom, as she has penned the award-winning book "Leaders: Their Stories, Their Words: Conversations with Human-Based Leaders™."
John Mattone, M.S. – Nominated to Thinkers50 as a fast-rising star in the leadership development field, John Mattone is a highly sought-after executive coach with over 20 years of experience in the fields of executive development and human capital management. Mattone, a globally recognized keynote speaker, is also a prolific author who penned the groundbreaking and innovative books "Talent Leadership: A Proven Method for Identifying & Developing High-Potential Employees" and "Intelligent Leadership: What You Need to Know to Unlock Your Full Potential." Mattone is familiar with the classroom, teaching Global Leadership Assessment & Development. He serves as an executive MBA faculty member at Florida Atlantic University, and as an adjunct faculty member at the Owen School of Management at Vanderbilt University.
Magdalena Mook – Internationally known and respected, Magdalena Mook brings over a decade of experience in fundraising, consulting and association management to the UCECE's Strategic Board of Advisors. Currently the CEO and Executive Director of the International Coach Federation(ICF) ®, where she acts as day-to-day liaison to ICF's leadership, she started with the organization as the Assistant Executive Director. Magdalena has also held positions with the Council of State Governments, a national association of state officials in all three branches of government, where she was the Assistant Director of National Policy and Director of Development. The U.S. Department of Agriculture's Economic Research Service has also utilized Magdalena's international business acumen, bringing her in for coordinating technical assistance programs, conducting workshops and implementing special projects in four European countries.
What separates the UCECE from other educational institutions is its most valuable asset: the instruction comes from the most accomplished and prominent members of the Association of Corporate Executive Coaches, an organization that is setting rigorous standards for membership, which include: A minimum of 10 years as a corporate executive coach coupled with 10 years as a business executive, certification and experience in globally accepted coaching assessments, evidence of having presented at a conference, published works, recommendations from clients, and more.
Bowman added, "Many of my cohorts often endorse lifelong learning, but don't often have the platform to share their knowledge with other top-tier coaches. The UCECE is our opportunity as leaders in the industry to walk our talk."
For more information on the University of Continuing Executive Coaching Education, visit http://www.ucece.org or contact mail to: cb@ucece.org.
About the UCECE
Spearheaded by visionary founder, CB Bowman, the UCECE is a "professional university"© designed for senior executive coaches seeking advanced courses to maintain credentialing requirements for certifications; for those coaches seeking new methodologies regarding the challenges facing their clients; and for those coaches seeking certifications for new assessment instruments.
The UCECE offers education for executive coaches with a radical twist: ACEC is forming the institution using the collective experience and expertise of its membership. Instructors are all eligible to earn their Master Corporate Executive Coach certification from the Association of Corporate Executive Coaches. They are proven leaders in the industry and have undergone a rigorous vetting process for entry into the ACEC in which they must meet high-level standards
UCECE courses in development will focus on current topics affecting the executive coaching industry, topics surrounding client concerns, and topics concerning the legal challenges of coaching. For executive coaches who are current ACEC members, the University will offer a 30 percent discount for most programs. ICF members will receive a 20 percent discount for most CCE classes.