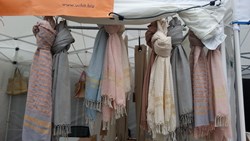 Uchit as a social enterprise aims to empower women and bring transparency to manufacturing and business practices so that consumers can enjoy high quality products made ethically.
San Jose, CA (PRWEB) December 01, 2013
Uchit, a Social Enterprise aimed at Empowering Women, is excited to offer beautiful hand-woven fashion accessories and linens for the home at its online store. In collaboration with artisan handloom cooperatives in India, Uchit brings fair-trade, earth-friendly textile goods that are hand-woven and hand-dyed using traditional methods. Uchit believes that elegance and luxury can be achieved without compromising the earth or its people, while preserving age-old traditions. The online store is active since late September for retail and wholesale customers.
"I am so happy to introduce Uchit as a source for fine fabric products," says founder Ruksana Azhu Valappil. "We have been working with handloom artisans since earlier this year. It was very fulfilling to see our efforts come to fruition when products started arriving in August. We are transparent in our manufacturing and business practices and are pleased to offer today's conscious consumer an option to enjoy high quality products made ethically. Our products are hand-crafted by artisans using 100% eco-friendly yarns and dyes to ensure quality that will last a long time."
Uchit, which means 'fair' or 'just' in Hindi, is a California Benefit Corporation, that has a three-fold mission - fairness to people, fairness to the earth, and giving back to society. The social enterprise partners with handloom cooperatives, providing an essential livelihood to artisan weavers, most of whom are women. In an era of cheap machine-made fabrics and low wages, many handloom weavers choose to burn their ancestral wooden looms for firewood and work as higher paid day laborers. Uchit hopes to play a small part in keeping the ancient art of textile hand-weaving alive while bringing consumers beautiful, long lasting, hand-woven creations. Uchit keeps its environmental footprint to a minimum - sourcing only natural fabrics/dyes and ensuring all operations are conducted in a sustainable manner.
Uchit offers a selection of fine quality fashion accessories and linens for the home. Current products include scarfs, tote bags, table linens and curtains. Products are made from natural fabrics like cotton, linen and silk using eco-friendly dyes. As a social enterprise, a majority of profits are distributed for social and financial development of women in the product sourcing countries as well as in the USA.
About Uchit:
Uchit, a social enterprise, was founded by Ruksana Azhu Valappil. Her passion for fairness and a strong belief in a better, safer world through empowering its women, led her to move away from a career as a clinical research scientist and become a social entrepreneur. In keeping with the main goal of empowering women, a majority of Uchit's profits goes towards projects that support that goal, both here in the USA and elsewhere in the world.
Uchit brings transparency to its business and manufacturing practices. The social enterprise partners with artisan-owned handloom cooperatives in India to make its products, supporting fair trade and providing livable wages. Products are made with natural fabrics and eco-friendly dyes - every aspect of the business is run with the environment in mind.
Uchit, a California Benefit Corporation, is a Green America certified business, and partners with Carbonfund.org to neutralize their carbon footprint. Uchit invites you to be part of this social venture by visiting the website and joining them on Facebook, Twitter and Pinterest.
We believe every woman deserves a fair chance!