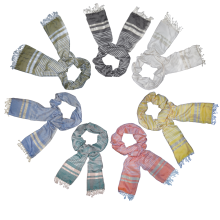 We offer high quality handcrafted ethical and sustainable home furnishings, table linens and accessories such as scarves while giving at least 50% profits back to empower women.
San Jose, CA (PRWEB) November 24, 2014
This Holiday season, Uchit is running an Indiegogo campaign in association with the #GivingTuesday initiative. Exclusive products and international shipping is offered only via this campaign. The funds raised during the campaign will bring their fine handcrafted eco-friendly home furnishings, linens and clothing accessories to a wider audience, support women artisans with livable wages and scale their social impact. Uchit aims to empower women and at least 50% profits go towards projects aimed at that objective. On top of their normal giving, a total of 10% of funds raised with this campaign will also go towards supporting their partner NGOs to pilot a program to bring education and vocational training to underprivileged adolescent girls in India and provide micro-loans and business training to women affected by the AIDS epidemic in Zambia.
Uchit partners with majority women owned artisan handloom cooperatives to produce their fine designs. All products are handcrafted with the highest quality sustainable yarns (cotton, linen, silk) and hand dyed using either low impact or plant based dyes. This partnership with fair trade cooperatives ensures livable wages to artisans, helps keep the age-old tradition of hand weaving alive and bring ethical, eco-friendly high quality products to the customer. Part of the funds raised with the Indiegogo campaign will go towards sourcing additional products and support women artisans.
Uchit has partnered with Center for Development of Disadvantaged People (CDDP), an NGO in India. They are supporting a pilot program in a cluster of remote villages for education and vocational training for adolescent girls in these underprivileged communities. 5% of all funds raised with the campaign will go towards this purpose.
Uchit has also partnered with Power of Love Foundation, a 501 c(3) non-for-profit organization based in the US to offer micro loans to women who are impacted by HIV/AIDS in Zambia. 5% of funds raised will go towards supporting them. These loans come with business training, monitoring and feedback to these women to start their own small businesses, run them successfully and help them support their families.
About Uchit:
Uchit is a lifestyle brand bringing heirloom quality handcrafted eco-friendly sustainable textile products to discerning customers. Uchit is a Certified B Corp, a Green America certified business and their operations are carbon-neutral through their partnership with carbonfund.org. Founded by Ruksana Azhu Valappil, a former scientist, Uchit gives back at least 50% of profits to projects aimed at empowering women, including financial independence and access to education.