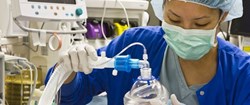 Irvine, CA (PRWEB) February 08, 2014
Two anesthesiologists at University of California, Irvine received fellowships from the University of California's Center for Health Quality and Innovation. The fellowship is intended to support projects designed to improve the quality and value of health care provided by those selected to be a part of the fellowship. The fellowship was given to Dr. Maxime Cannesson, an associate professor, and Dr. Shermeen Vakharia, clinical professor and vice chair for quality and patient safety.
UC Irvine Medical Center, Orange County's only university hospital, offers acute and regional-care services. The hospital is home to the county's only Level I trauma center and Level II pediatric trauma center, and National Cancer Institute-designated comprehensive cancer center. For 13 consecutive years, U.S. News & World Report has ranked UC Irvine among "America's Best Hospitals."
Dr. Cannesson and Dr. Vakharia are among 10 fellows selected from a nationwide pool of 356 applicants. Chosen by UC faculty and staff, all applicants were evaluated on their leadership potential, mentorship opportunities available at each applicant's campus, and the strength and strategic relevance of the proposed project.
Under the fellowship, Dr. Cannesson developed an Enhanced Recovery Surgery program at the UC Irvine campus, which will eventually be adapted by all five University of California medical centers. The program includes evidence-based best practices delivered by a multi-disciplinary team. Intended to improve patient recovery following high-risk surgery, the participating sites reported improved patient experience, better clinical outcomes, healthcare team collaboration, a reduction in the length of time patients spend in recovery, and a lower risk of hospital-acquired infections.
Dr. Vakharia's project, "Urological Surgical Home: A Transformative Model of Perioperative Care," leverages the unique training, skills, and perspectives of perioperative personnel and anesthesiologists to improve patient outcomes and reduce complications that can arise from urological surgeries. As with Dr. Cannesson's program, this model will eventually be extended to other surgical services and UC hospitals.
As the year-long fellowship draws to a close, the fellows' institutions will receive a $50,000 award to cover the portion of the salary and benefits associated with their time spent on their individual projects. The primary goal of the UC Health Fellowship is to build leadership skills and address a wide range of projects, including ones whose intended purpose is to increase access to specialty care, expand the use of telehealth, and enhance recovery time after surgery.
About UC Irvine Health Department of Anesthesiology & Perioperative Care
The Department of Anesthesiology & Perioperative Care is one of the premier anesthesiology departments in the United States, and boasts an excellent residency program for training future doctors. The department is affiliated with the UC Irvine School of Medicine and provides anesthesia coverage at the UC Irvine Medical Center; the only university hospital serving Orange County. Established in 1967, the UC Irvine School of Medicine ranks in the top third of American medical schools in terms of research income per faculty member and has achieved international recognition in fields such as neuroscience, medical imaging, cardiology, and genetics. As one of five University of California medical centers, UC Irvine Medical Center is a thriving Level I trauma center and Level II pediatric trauma center with a steady influx of patient volume and surgery complexity. For more information about the UC Irvine Health Department of Anesthesiology & Perioperative Care, please visit: http://www.anesthesiology.uci.edu/.
###