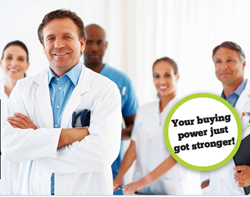 Scottsdale, AZ (PRWEB) October 16, 2013
Urgent Care Integrated Network (UCINet.org), a group purchasing organization that negotiates and manages contracts for medical products and services on behalf of its membership, is now offering members significant savings with EHR, Practice and Patient Solutions, a service provided by Athena Health.
Athena Health offers proven EHR, practice and patient management solutions for urgent care centers. With Practice and patient management services; urgent care centers can get 91% of all claims paid on the first submission and facilities can obtain a 12% average increase of collections. As the cost of doing business as an urgent care center continues to escalate, independent practices can now enjoy access to a scalable solution that only large corporate enterprises or hospital systems were able to achieve.
UCIN uses its buying power to negotiate services and products with vendors at lower rates than members can obtain individually. UCIN also requires that vendors guarantee the quality of their products and services and who have extensive experience in the urgent care space.
Visit UCINet.ort to learn more about UCIN and EHR, Practice adn Patient Solutions.
About UCIN:
UCInet is national single-specialty network of independent urgent care centers and is well equipped to guide, empower and assist its members both now and in the future. UCIN offers complimentary membership to all urgent care centers and medical practices with extended hours. Visit to learn more about gaining access to reduced costs for medical products and services through the UCIN group purchasing organization.
Services Offered:

Top notch medical products
Unmatched Services
Expert knowledge and know-how
Independent urgent care practices can find more information and apply for membership directly on the networks website at http://www.UCINet.org.