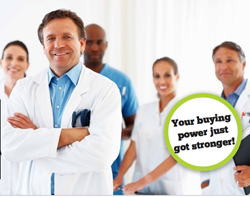 Our members can take advantage of new media strategies to drive patients into their clinics.
Sybil Yeaman, COO
Scottsdale, AZ (PRWEB) August 22, 2013
Urgent Care Integrated Network (UCIN), a Federal Trade Commission compliant single-specialty network, is the first of its kind specifically serving the purchasing and contracting needs of independent urgent care practices. It has announced today a strategic partnership with iMoxie Digital Marketing, a North Carolina-based internet marketing company focused on the urgent care industry.
iMoxie takes a strategy-driven approach to patient acquisition by leveraging several channels on the internet. With their years of experience with SEO, PPC and Social Media marketing, iMoxie creates patient acquisition for the client base by delivering targeted traffic to medical clinics.
"We are very excited about this partnership with iMoxie Digital Marketing," said Sybil Yeaman, UCInet COO. "As our new partner and vendor, our members can take advantage of new media strategies to drive patients into their clinics. We anticipate that with access to these kinds of services our members will have greater success increasing their exposure and their patient acquisition."
UCIN effectively addresses the twin challenges every independent urgent care practice faces: first, lack of economy-of-scale to secure lower cost products and services; second, lower reimbursement due to lack of negotiating power with insurance companies. As the cost of doing business continues to escalate, independent practices now can enjoy access to a scalable solution that heretofore only large corporate enterprises or hospital systems were able to achieve.
About UCINET:
UCInet is national single-specialty network of independent urgent care centers and is well equipped to guide, empower and assist its members both now and in the future.
Services Offered:

Top notch medical products
Unmatched Services
Expert knowledge and know-how
Independent urgent care practices can find more information and apply for membership directly on the network's website at http://www.UCInet.org.
About iMoxie Digital Marketing
iMoxie Digital Marketing is a results-driven internet marketing company located in Winston-Salem, NC and was founded by Lisa Cintron an 8 year online marketing veteran. They are seasoned marketing strategist and persistent technicians. They dig deep and are zealously involved in the strategic planning and execution of your online marketing efforts. Learn more about iMoxie and their services at http://www.iMoxie.me.
Services Offered:
Local Search and Social Marketing
Google Adwords and PPC
Wordpress Sites
Local Mobile Marketing