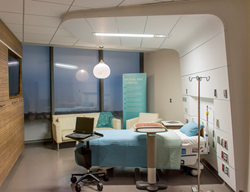 Overland Park, KS (PRWEB) July 31, 2014
An original headwall for the University of California – San Diego designed by Cannon Design and crafted by Shield Casework received First Prize in the Industrial and Life Science Design competition in the International Design Awards (IDA) this week.
The award-winning project team partnered to turn an institutional medical product, the patient headwall, into an architectural element that is as functional as it is beautiful. Merging evidence-based design with proven function, the headwall contains the room's technology within a single element, its innovative canopy.
The annual IDA competition recognizes, honors and promotes legendary design visionaries and uncovers emerging talents in architecture, interior, product, graphic and fashion design on global level. IDA honorary juries examined more than 1,000 entries submitted by architects and designers of interiors, fashion, products, and graphics from 52 countries throughout the world.
IDA recognized how the headwall united architecture, technology and the patient care workflow in one pioneering design. Using evidence-based design research and an intensive prototyping process, the team crafted an initial model that will be used to build 242 more for the brand-new UCSD Jacobs Medical Center in 2015.
The UCSD headwall is also inherently clean: Shield's thermoformed solid surface fabrication clads the metal framework, creating a nonporous surface that reduces the risk of transferring infections. Shield products are setting a new industry standard: the company was recognized as an Architizer A+ Award finalist in March and this headwall was selected as an International Design Excellence Awards finalist by the Industrial Designers Society of America in April.
About Shield Casework
Merging exceptional design into healing environments, Shield Casework manufactures the leading line of modular solid surface casework, headwalls and custom architectural products. Shield's philosophy is to create beautiful products that are meticulously crafted, immaculately clean and unmatched in quality. Seamless construction, cleanable radius corners and patented embedded connections make Shield superior to any other casework product.
About CannonDesign
An award-winning, full service architecture, engineering and interior design firm, CannonDesign specializes in healthcare, education and corporate commercial facilities. Creating design solutions that solve the greatest challenges facing clients and society today, Cannon doesn't just design buildings. Its talented team designs innovative solutions that offer a clear focus to clients and the design community. Design thinking isn't just about shaping environments: it's aimed at shaping businesses, educational models, energy strategies and even economies of entire countries.
About IDA
A handful of designers, thinkers and entrepreneurs created the International Design Awards (IDA) in 2007 as a response to the lack of recognition and celebration for smart and sustainable multidisciplinary design. IDA exists to recognize, celebrate and promote legendary design visionaries and to uncover emerging talent in architecture, interior, product, graphic, and fashion design. IDA aspires to draw attention to the iconoclasm of design worldwide, conceptualizing and producing great work.
# # #