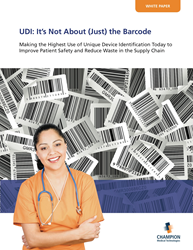 Very few hospitals are prepared to capture or use UDI labeling data. It's not that they lack interest, they lack information. Our white paper and webinar will fill that information gap.
Chicago (PRWEB) November 18, 2014
Champion Medical Technologies, a healthcare information technology company and leader in tissue tracking and medical device management systems (MDMS), has released a new white paper about how hospitals can benefit from the U.S. Food and Drug Administration's Unique Device Identifier (UDI) labeling system.
On December 4th, Peter Casady, Champion Medical Technologies Chief Executive Officer, will host a webinar briefing for the media and industry to review UDI: Making the Highest Use of Unique Device Identification to Improve Patient Safety and Reduce Waste in the Supply Chain. To download a copy of white paper or to register for the December 4th webinar, please click here.
"A real sense of urgency about medical device management is developing in the marketplace, but very few hospitals are prepared to capture or use UDI labeling data. It's not that hospitals lack interest, they lack information. Our white paper and webinar will help fill that information gap," said Casady. "The UDI labeling system has the potential to simplify medical device management, improve patient safety and regulatory compliance and drive down operating expenses."
The company also is proud to announce two co-presenters for the December 4th webinar. Attendees will have the opportunity to learn from an industry and regulatory expert and a career perioperative nurse.
Jay Crowley, Vice President of Unique Device Identification Services and Solutions at USDM Life Sciences, focuses exclusively on providing business process, technology and compliance solutions for the regulated life science industry. Previously, Jay was Senior Advisor for Patient Safety in the FDA's Center for Devices and Radiological Health, where he had primary responsibility for the development and implementation of the FDA's UDI system.
Rose Trojkovich, BSN, RN, CNOR, Surgical Services Educator, is the administrator of the tissue tracking and medical implant program at Englewood Hospital and Medical Center, an acute-care and community teaching hospital through its affiliation with Mount Sinai School of Medicine and the Mount Sinai Consortium for Graduate Medical Education. Rose brings 40 years experience as an operating room nurse to her role as an educator and administrator.
About Unique Device Identification
In September 2013, the Food and Drug Administration established by law the Unique Device Identification system to provide a consistent way to track medical devices throughout their distribution and use. The rule will be phased in over seven years and started on September 24, 2014, when all Class III implantable, life-sustaining and life-supporting medical devices were required to carry UDI-compliant bar code labels and corresponding information housed in a national database. The UDI system has the potential to improve the quality of information in medical device adverse event reports, which will help the FDA identify product problems more quickly, better target recalls and improve patient safety.
About Champion Medical Technologies
Champion Medical Technologies is a privately held, healthcare information technology company and leader in tissue tracking and implantable medical device management systems (MDMS) for hospitals. Champion's flagship system UDITracker® captures, documents and shares medical implant data between patient care and supply chain information systems, empowering hospitals with the insights they need to increase patient safety and drive down operating costs.
UDITracker® is a comprehensive medical device management solution that integrates regulatory compliance, inventory management, quality assurance and product recall inventory matching into a single, streamlined system. Using barcode scanners, smartphone apps and RFID storage units, users capture information once and record accurate data to ensure patient safety, produce inventory cost savings and to generate business-decision making analytics.
UDITracker® features interoperable interfaces to most electronic health record and inventory management systems, ensuring that medical devices can be uniquely identified, located in inventory, tracked during transfer from storage to the OR and traced directly to patients. Uniquely identified medical device information can be searched, sorted and shared within a single hospital or across a group of hospitals.
RecallConnect®, the only real-time recall inventory and patient matching system on the market, received a Chicago Innovation Award in recognition of its unique patient safety feature. It reduces from months to hours the amount of time it takes hospitals to identify patients and current inventory effected by a medical device product recall.
Founder and Chief Executive Officer Peter Casady established Champion Medical Technologies in 2006. Today, it serves more than 200 hospitals and major medical centers nationwide and is the market leader in tissue compliance and medical device management.