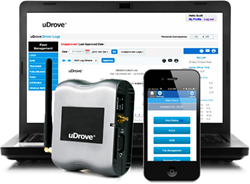 It couldn't be easier. uDrove® Pro and uDrove® Prime take the hassles and difficulty out of that tedious paperwork and gets your reports done faster and accurately, saving you time and money. -Thayne Boren, VP of Sales, uDrove®and Internet Truckstop®
New Plymouth, ID (PRWEB) August 29, 2013
uDrove® is pleased to announce the recent release of its uDrove® Pro and uDrove® Prime, which will help fleets, carriers and drivers remain compliant with the MAP-21 Hours of Service rule and the Federal Motor Carriers Safety Administration regulation 395.15.
"We are very excited about the release of uDrove® Pro and uDrove® Prime," uDrove® General Manager Nick Reed says. "Our new products provide real-time, accurate information that is critical when it comes to safety, maintenance and fuel consumption."
uDrove® Pro combines uDrove®'s smart phone technology with the functionality of an electronic on-board recorder (EOBR) to produce accurate HOS logs, inspection and diagnostic reports, electronic proof of delivery documents, tracking, IFTA/IRP reporting and fuel and business receipt capturing. It allows fleets to manage their drivers' paperwork quickly and more efficiently.
Likewise, uDrove® Pro helps reduce the risk of bad driving, allowing fleet managers to increase CSA scores and save money on insurance. It creates a simplified solution for drivers, allowing them to keep track of their entire trip packet electronically.
The hardware is easy to install and takes just a few minutes to be ready to use. "It is very easy to install," Reed says. "If you can plug in a lamp, you can install the uDrove® Pro EOBR."
uDrove® Prime is uDrove®'s newest stand-alone application that provides data in real time. uDrove® Prime allows short-haul drivers (150 miles and under) a snapshot of hours of service on the phone to present to Department of Transportation officials. It also features an editable list of inspection reporting and enhanced scanning of proof of delivery documents and fuel and business expense receipts to help users remain compliant.
For more information on uDrove® Pro and uDrove® Prime, visit http://www.udrove.com, or contact uDrove® at 888-983-7683.