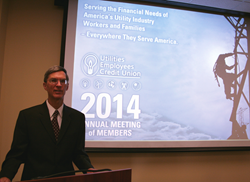 UECU helps our members achieve greater financial wellness and conveniently manage their family's finances from anywhere, at any time.
Wyomissing, PA (PRWEB) May 15, 2014
Utilities Employees Credit Union (UECU), the billion dollar virtual credit union serving America's utility and energy industry, recently reported sharing $10 million in profits with its member-owners during 2013. The credit union made the announcement at its spring 2014 Annual Meeting, and also shared other highlights from the 2013 fiscal year, including the expansion of mobile and online services, insurance and investment products, and financial education programs offered by the full-service financial institution.
"In 2013, we launched new services that add an even greater level of personalization to the UECU membership experience – all to help members achieve greater financial wellness and conveniently manage their family's finances from anywhere, at any time," says Glen A. Yeager, President and Chief Executive Officer of UECU. "On top of these new initiatives, our commitment to member giveback remained strong, with members receiving more than $10 million in financial benefits through UECU's 2013 Member Loyalty Bonus™, rewards programs, and earnings on their savings. Members saved millions more through lower loans rates and fewer fees than if they'd dealt with a bank."
UECU credits its members' financial success to the organization's unique business model – without shareholders or branches to maintain, the credit union is able to return a greater share of profits to its member-owners. UECU has made the branchless model work to its advantage since 1934, when the cooperative financial institution formed to serve America's utility workers and their families, long before the days of online banking. Today, Utilities Employees Credit Union offers a wide variety of online and mobile banking services, and continues to serve more than 44,000 members spread across all 50 states, from its single facility in Pennsylvania.
As an industry-specific credit union, UECU works with more than 500 utility and energy companies located across the nation, to offer financial services to industry workers and their family members. In addition to its suite of consumer finance products and online banking services, UECU offers employee promotions, benefits support, health care savings accounts, and financial education resources for companies offering UECU membership as an employee benefit. Some companies provide membership as a stand-alone benefit, while others incorporate it as part of a company financial wellness program or employee assistance program. In the coming year, UECU plans to further expand its offerings.
"During 2014, the Utilities Employees Credit Union team will continue adding enhancements to the virtual banking experience for UECU members across the nation, while proactively maintaining our strong financial position," says Yeager. "We've recently launched a new mobile-friendly website, with an even faster online membership application, and will add remote check deposit to our mobile banking platform later this year."
The credit union's annual meeting was held at its Wyomissing, Pa. headquarters and broadcast on the UECU YouTube Channel for its nationwide membership, who can also review the organization's recent achievements and financial performance in the 2013 UECU Annual Report on the UECU website. At year-end, UECU's total assets reached $1.08 billion, ranking it in the top 3 percent of credit unions nationwide, and its year-end capital level exceeded 13 percent of total assets, compared to less than 11 percent for peer credit unions. The organization's strong performance has gained UECU recognition as one of the few U.S. credit unions to consistently receive an "Excellent" Weiss Rating for financial soundness and one of the only financial institutions to give a year-end bonus dividend, which has awarded nearly $3 million to UECU members since 2011.
Companies in the utility, energy, or related industries can connect their employees with no-cost financial benefits through Utilities Employees Credit Union, by visiting benefits.uecu.org or calling 800-288-6423, extension 6034. Further information about Utilities Employees Credit Union and its financial services is available at http://www.uecu.org.
###