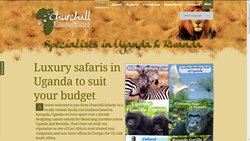 We take immense pleasure in offering comprehensive and rewarding Uganda gorilla safari spanning to seven days.
Kampala, Uganda (PRWEB) December 17, 2014
Churchill Safaris, founded by a certified accountant Ether Kyambadde, is offering customized tours and safaris for individuals and groups to the most iconic destinations of Uganda and Rwanda. All the safaris offered by the company are customized according to the budget of the travelers.
An executive at Churchill Safaris revealed in a recent interview, "Under the guidance of Ether, we ensure outstanding travel experience for our clients. Closely involved in designing itineraries, Ether takes personal interest in handling every safari, updating clients and dealing with the logistics. We also make it a point to respond to the client's email within 24 hours."
Churchill Safaris has offices in prominent locations worldwide including the US, Germany, UK and South Africa. The travelers can communicate directly with the representatives in their own county. Moreover, Churchill Safaris is dedicated to the conservation of Uganda's natural and cultural resources. They actively support local tourism initiatives and socio-economic activities in Uganda as well as Rwanda.
Shedding light on the 7 days Uganda gorilla safari on offer, the executive further stated, "We take immense pleasure in offering adventurous Uganda gorilla safari spanning to seven days. It offers the visitors once in a lifetime opportunity to witness the mysterious yet enticing world of primates. The safari is customized to suit the myriad needs of travelers."
The 7 days Uganda gorilla safari begins with a visit to Kidepo National Park, stopping en route at the Ziwa Rhino Sanctuary. The second day, the visitors have a rare glance into the Acholi and Karamojong culture. The adventure continues the next day as the visitors travel to the Sudanese border to visit Kidepo's ostrich population, which is one of the highlights of the tour. The tour concludes with an early morning game drive to the top of Murchison Falls, where the visitors can have a close look into the gorge where the Nile narrows and drops over the edge of the famous falls. 7 Days Uganda gorilla safari that Churchill Safaris offers is the best way to explore the hidden natural and cultural splendor East Africa has to offer.
About Churchill Safaris:
With the base of operations in Kampala and regional offices in various offshore locations, Churchill Safaris rules the roost when it comes to offering comprehensive and tailor made tours for individuals, families and small groups across Uganda and Rwanda. Established in the year 2000, the company enables the clients to have an easy access to exciting gorilla tours, white water rafting, bird watching tours and much more. Apart from other tours, Churchill Safaris also offers affordable bird watching safaris in Uganda.
Contact Information:
P.O. Box 28170,
Kampala, Uganda
Ph: +256 414 341815
Email: Churchill(at)ChurchillSafaris(dot)com
Web: http://www.churchillsafaris.com/
###