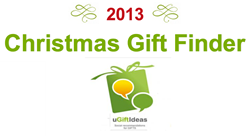 The Christmas gift finder to make it easy to choose great gifts even for those on the list who are difficult to buy for, or for those you may not know very well.
Nashua, New Hampshire (PRWEB) November 04, 2013
Social media gift site uGiftIdeas.com has launched new a Christmas gift finder functionality, a "Santa's helper" tool that guides shoppers to the perfect Christmas gifts for everyone on their list based on the recipient's interests.
uGiftIdea.com's Christmas gift finder is the ultimate way to find the right gift for everyone while saving valuable time for other pressing holiday tasks.
uGiftIdeas.com has pioneered social media gift-buying and introduced a steady stream of interactive tools that make the gift buying process fun, easy and best of all precise. The uGiftIdeas.com website eliminates the guesswork that goes with gift buying by searching for items according to interests, age and gender with spot-on results.
Despite the mind-boggling array of gift choices available today, shopping for that perfect gift can be overwhelming, especially when the task is multiplied by the number of people on a holiday gift list. Christmas adds to shopper anxiety because gift buying is almost always for multiple recipients, says David Anderson, VP of technology at uGiftIdeas.com. But the uGiftIdeas.com Christmas gift finder can save shoppers some serious time and uncertainty.
"We designed the Christmas gift finder to make it easy to choose great gifts even for those on the list who are difficult to buy for, or for those you may not know very well," Anderson says. "The interest-driven search options, combined with personalized triggers you do know like gender and age, work together to provide shoppers with a list of appropriate gift choices."
"If it's a coworker who has mentioned he loves all things baseball, or the piano teacher who loves to travel, you have plenty of information already to find something unique that seems tailor made just for them," Anderson says. "We are always developing new ways to use social networking to make gift buying fun and effective."
"Our gift site is collaborative, innovation-driven and user-friendly for an effective shopping experience that is always enjoyable."
Shoppers can set up a short profile, submit questions on gifting, share recommendations on gifts they've given or received, and set up their own gift idea lists for friends, family and themselves.
To find out more about the newest interest-driven Christmas gift selection tool, visit the uGiftIdeas.com website or visit our Facebook page. Retailers interested in featuring their products on uGiftIdeas.com can send an email to sales(at)uGiftIdeas(dot)com for merchant account information.
About uGiftIdeas.com:
uGiftIdeas.com is a social gift recommendation platform and curated marketplace for finding unique gift ideas. uGiftIdeas.com combines a variety of social recommendation technologies to create a hub for gift shoppers.
The concepts behind uGiftIdeas.com—collaborative filtering and crowdsourcing—are similar to other social recommendation sites like Yelp!, TripAdvisor and Netflix. However, uGiftIdeas.com provides a social recommendation platform optimized for successful gift shopping to help find the best gifts for men, women, teens, children, mom, dad, friends and everyone in between.
uGiftIdeas.com offers gift suggestions for all age groups, events and holidays including Christmas, Mother's Day, Father's Day, Valentine's Day, anniversaries, birthdays, graduations, and even Boss's Day. Gift suggestions "for him" or "for her," make the task of browsing easy and enjoyable.
uGiftIdeas.com helps people find that special gift every time. No more money wasted on impractical or unwelcome presents that are relegated to a closet or kitchen drawer and forgotten.
###