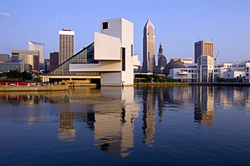 This is the first time in history that two Chairmen from the same city have followed one another in leading the missions and goals of the MBA.
Cleveland, OH (PRWEB) October 28, 2014
Thousands of mortgage banking and finance professionals gathered in Las Vegas for the Mortgage Bankers Association's 2014 Convention last week. This event was filled with special guests, finance and mortgage updates, and political landscape projections; with a headline event of swearing in the new MBA Chairman.
Union Home Mortgage Corp. (UHM) was represented by their CEO, Bill Cosgrove, as he took his seat as the new 2015 MBA Chairman. Cosgrove was introduced by last year's Chairman, E.J. Burke. Burke is the Co-President of Key Community Bank.
"This is huge for Cleveland since E.J. and I both have Cleveland-based companies," Cosgrove said. "This is the first time in history that two Chairmen from the same city have followed one another in leading the missions and goals of the MBA."
Burke served as the 2014 Chairman, with Cosgrove serving as Chairman-Elect during that period.
Cosgrove will be backed by incoming Chairman-Elect, Bill Emerson, CEO of Quicken Loans Inc., and Rodrigo López, president and CEO of AmeriSphere, as Vice Chairman.
"Bill lives our business every day," Burke announced while making his introductions.
It's especially exciting for Cleveland to see two great leaders emerge from the city to be the face of such a powerful organization. It's been a long time since there has been so much consistent positive press about Northeast Ohio.
What's more, Bill had the entire convention buzzing about his opening remarks after stepping into his role as MBA Chairman. The industry has seen some sharp criticism over recent years, and while sometimes warranted, it has prevented mortgage banking from moving forward the way it should and the consumer has become an unfortunate casualty.
"Let me be clear- Any lender that colors outside the lines of federal regulations should be held accountable. But today lenders are paying many times over for mistakes that may have been out of their control. And it's the consumer who pays the ultimate price," Said Cosgrove. "It's time for the penalty phase to end."
The MBA has some work cut out for them over the next year with some very lofty goals. But with Cosgrove at the forefront, 2015 looks bright. Cosgrove openly challenged his industry counterparts to follow in his footsteps and speak out for the betterment of the industry. The MBA provides an excellent vehicle for effecting positive change in mortgage banking.
"As a CEO, I'm going to challenge other CEOs in this industry to really get engaged in the future of the mortgage and finance industries," Cosgrove added.
As the new Chairman of the MBA, Cosgrove will work with the other members to achieve goals, lead the agenda for economic policy, and offer innovative solutions that have a positive impact on real estate finance.
For more information about Cosgrove's background or the leadership role he plays in NE Ohio, please visit UnionHomeMortgage.com.