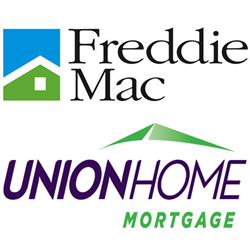 Today, we are truly in the major leagues of mortgage banking.
Strongsville, OH (PRWEB) September 18, 2014
Union Home Mortgage (UHM) is excited to announce they were recently approved as a seller for the mortgage finance giant, Freddie Mac. With a set of high standards that mortgage bankers must surpass, this approval reflects the success of UHM.
UHM was purchased in 1999 by their President and CEO, Bill Cosgrove. Since taking ownership, Cosgrove has helped UHM grow into a full-service mortgage banking company, with offices throughout the U.S.
Since Freddie Mac was chartered by Congress to carry out the mission of stabilizing the nation's residential mortgage markets and expand opportunities for homeownership and rental housing, this national institution has established high standards for those they'll approve for seller status. Assigning this status to UHM, sets this Ohio-based, full-service mortgage banking company apart from competitors and reflects UHM's lasting efforts in customer education, solid financial decisions for the good of the company, and consistency in the revenue stream.
"Today, we are truly in the major leagues of mortgage banking," Cosgrove said. "This is definitely a feather in our cap."
"Two years ago the partners at UHM set the goal to take the company to the next level and be direct sellers with not only Fannie Mae and Ginnie Mae, but also Freddie Mac," he added. "That goal has been met and was only made possible by the hard work of my peers."
While this achievement demonstrates hard work on the part of UHM's partners, it also shows that they offer sufficient real estate training to employees (that can be passed on to customers) and that they've maintained steady growth in a variable industry.
For more information about the future of this mortgage banking company with Freddie's backing or to hear about UHM's financing and loan options, please visit them online at UnionHomeMortgage.com.