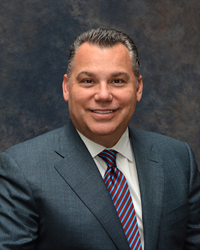 I am honored and excited to serve as MBA chairman for the upcoming year.
Strongsville, OH (PRWEB) October 28, 2014
On Sunday, October 19th, Union Home Mortgage Corp. (UHM) production & sales staff and thousands of other industry professionals gathered in Las Vegas to see UHM CEO, Bill Cosgrove, sworn in as the new Mortgage Bankers Association Chairman at the MBA Annual Convention.
"I am honored and excited to serve as MBA chairman for the upcoming year," said Cosgrove. "It is my mission to continue the exemplary work of past chairman in promoting the real estate finance industry, and I look forward to collaborating with MBA members on the various policy and regulatory challenges that lie ahead."
Cosgrove's family and UHM partners were thrilled to see their fearless leader take the seat and establish a pinnacle point in his career. After purchasing UHM in 1999 (known as Union National Mortgage at the time), he helped UHM grow into a full-service mortgage banking company, with offices throughout the United States.
With more than 26 years of experience in the mortgage banking industry and after holding many other seats in the MBA, Cosgrove is a great addition to the influential voice the MBA offers the mortgage industry.
Cosgrove has received many distinctions for his passion and work over the years. In 2000, he was named by Crain's Cleveland Business as a "40 under 40" top young executive in Northeast Ohio. In 2003 he was inducted into the Bedford, Ohio High School Distinguished Hall of Fame for his accomplishments in Mortgage Banking. In 2004, he earned MBA's Certified Mortgage Banker (CMB) designation. In 2008, Cosgrove was awarded the distinguished Hoddup Award for his many contributions to the Ohio Mortgage Bankers Association. He also previously served as the President of the Ohio MBA and on the MBA RESBOG (Residential Board of Governors) Steering Committee.
"The members of this Board will no doubt be influential and effective in helping to create policy that positively affects the real estate finance industry," said Cosgrove.
With 2,200 member companies that represent the breadth of this industry, the MBA works hard to create a sustainable and vibrant future for all industry participants. They also marshal balanced policy perspectives to ensure transparent, efficient markets.
As Chairman of the MBA, Cosgrove will work with the other members to achieve goals, lead the agenda for economic policy, and offer innovative solutions that have a positive impact on real estate finance.
For more information about Cosgrove's background or to learn more about Bill's company, Union Home Mortgage Corp., please visit UnionHomeMortgage.com.