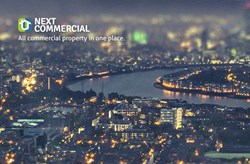 When my fiancée's event organising business couldn't seem to find a suitable premises without having to spend a ridiculous amount of time and effort searching multiple information avenues, the next best thing besides a neck rub was to just fix the problem
(PRWEB UK) 6 September 2013
Traditionally, the search for a suitable commercial property is an arduous task with so many properties available and a multitude of information avenues to navigate. Finding the right premises is often a painful and time consuming process and one that can prove to be an extremely expensive undertaking for those who appoint an agent to do the legwork for them.
Turning this problem on its head, a savvy team of commercial property and technology experts have developed Next Commercial an insightful, totally unique new website that harnesses the power of search engine technology to streamline the commercial property search process.
Designed to function as a powerful search engine, Next Commercial helps business owners, start-ups and investors find the right premises quickly and easily. Its intuitive technology sifts through information from hundreds of letting agents and property websites, provides users with results tailored to their search criteria in one central location. Users can filter by need with options including price range, size, location, whether the property is to buy or let and the type of property; be it a bar/nightclub, a shop unit, or a restaurant to name just a few.
Thanks to the cutting edge technology powering the engine behind the scenes, all of the information provided on Next Commercial is constantly and automatically updated. This means users are only presented with accurate and up-to-date listings, streamlining the search process. When changes are made to a commercial property agent's listings, Next Commercial automatically updates to reflect this.
Commercial property agents can also tap into the many benefits of Next Commercial, with increased online exposure just a click away. Next Commercial is already listing property from some of the major UK commercial property agents and is looking to grow exponentially. As the technology automatically picks up updates as they are made to the agent's listing on their own website, there are no extra maintenance costs involved in having premises listed on Next Commercial.
With over two years in the making, Next Commercial is a powerful, slick and utterly unique search engine. Its creators continue to integrate new updates and add new layers of data to provide even more accurate and useful information to business owners and commercial property agents. Although it is currently only available to the UK, it will be available to users in Europe and the United States shortly.
For more information about Next Commercial visit http://nextcommercial.co.uk
About Next Commercial
Next Commercial is a powerful resource that links up commercial property sellers, renters, and agents with the people who are already looking for what they have to offer. Armed with a powerful, intuitive search engine that took two years to create, a mutually-beneficial interface that supports agents as much as it does prospectors, and a constantly-updated amount of listings from throughout the UK, Next Commercial is the best resource on the web for commercial property hunters to find what they're looking for, and for agents to fill their spaces.