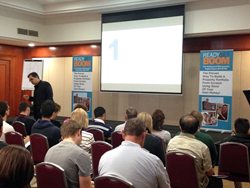 Seller finance strategies make it possible for home buyers and property investors to enter the market without applying for new mortgages or saving up large amounts of cash
(PRWEB) September 02, 2014
A new poll from Reuters revealed that UK house prices could rise another 9 per cent this year, but it could be controlled if the Bank of England (BoE) continue on with their plan of tightening their monetary policy, au.news.yahoo.com reported on 27 August 2014.
In light of this property news,Rick Otton, a highly respected property coach, says that now that prices keep on soaring higher every month, home buyers can rely on seller financing to help them buy houses with affordable terms.
"There are two things to keep in mind in this report. Firstly, rising home values can price people out of their dream of home ownership. Secondly, the report mentioned that price increases can be controlled by the Bank of England by tightening monetary policy. Either way, regular homebuyers will be affected," he said.
"Currently, people are forced to save a ton of cash or apply for new mortgages just to buy property for sale in the UK. At the current state of things, many people are already feeling locked out of the market, because of the amount of energy and cash needed to finish the process. So if the BoE begins to change their rules on mortgage application or raise their interest rates it would only make the process of buying and selling houses for sale even harder for regular folks to complete," according to Mr. Otton.
Mr. Otton said in a recent interview for http://www.rickotton.co.uk/ that a good solution for regular folks to enter the real estate market, despite challenging market conditions, is through the help of seller finance strategies.
"Seller finance strategies make it possible for home buyers and property investors to enter the market without applying for new mortgages or saving up large amounts of cash. The key is in its flexibility. For instance, a buyer can negotiate to assume an existing loan and pay the remaining equity in increments, rather than take out a new loan. In that way, the buyer can minimise upfront costs, which makes it easier for them to purchase property. At the same time, the seller can move away quickly from unwanted debt an create passive income stream for themselves," Mr. Otton discussed.
Visit http://www.rickotton.co.uk/ today to get more information about creative seller finance strategies and how these strategies can be applied in changing market conditions.
About Rick Otton
Rick Otton is a property investment professional who, over the last 23 years, has introduced innovative real estate strategies to the UK, Australian and the United States. His creative 'low-risk, high-reward' approach to buying and selling houses is exemplified in his own business, We Buy Houses.
This year marks the 10 year anniversary of Mr Otton introducing his strategies to the UK, and the 5 year anniversary of his innovative 'Buy A House For A Pound' process – one that attempted to be emulated by others. His constant process of strategy refinement, and adapting to the ever-changing real estate market, continues to place him at the forefront of property investment education.
In 2012 Rick Otton published his Australian book 'How To Buy A House For A Dollar' which was named in the list of Top 10 Most Popular Finance Titles for 2013. A UK version is on the drawing board for publication in 2014.
Mr Otton freely shares insights into his non-bank-loan strategies that have allowed everyday UK men and women to beat the rental cycle and have their own homes. He coaches others on how to build profitable businesses by facilitating transactions that focus on the needs of potential buyers and motivated sellers.