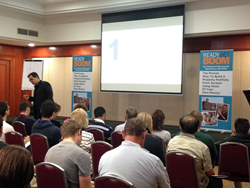 A good way for people to profit out of these projects is to team up with someone who has the right skills to come in and do the renovations theirselves.
(PRWEB) August 28, 2014
A survey from an insurance firm named "LV=", found that one in 25 property owners damaged their houses because of poor DIY execution. Many of these people were inspired by Youtube videos which make hard tasks seem easy, Mirror.co.uk reported on 22 August 2014.
In response to this property news, Rick Otton, a highly respected property coach from the UK, reminded UK residents that if they want to do renovation projects, it's wiser to let somebody with the right skills to do it and just agree to split with them the profits of the sale.
"Among the most common disaster projects indicated in the survey was sealing the bath or shower and filling in cracks in the walls. It added that most of the time, the owners of these properties end up calling in the help of professionals to correct their mistakes. LV= estimates that a couple of million in professional fees have been wasted in correcting DIY projects, and they advised UK residents to be more realistic from now on when taking on DIY projects they saw online," according to Mr. Otton.
"I believe that all renovation and DIY projects start out with the best intentions in mind, however, these intentions and the actual skill level required to execute these projects do not always meet each other. Most of the time, there is a high passion for real estate and its benefits, but very low skill level for people taking on DIY projects. That's why a lot of projects end up a disaster," he added.
"A good way for people to profit out of these projects is to team up with someone who has the right skills to come in and do the renovations theirselves. When you do this, however, remember to split the profits of the sale when the property is sold. So, that way, there's less cost and everyone gets a piece of the pie at the end," Mr. Otton said in a recent interview for RickOtton.co.uk.
"Another strategy is to offer a 'handyman special' where the work on the property can serve as their deposit. This deal is excellent for those who enjoy fixing up a place. The buyer that signs on will not only get the opportunity to fix up the property according to their preference, they also sidestep having to pay a large deposit. Even better, that buyer will be benefitting from the appreciated value of the property they bought. The benefit to you, the seller, is that you avoid the risk of damaging the value of your property. At the same time, this strategy allows you to sell immediately because you no longer need to spend the next three to six months doing the renovation yourself," Mr. Otton added.
Visit http://www.rickotton.co.uk/ today to get more information about creative seller finance strategies and how these strategies can be applied in changing market conditions.
About Rick Otton
Rick Otton is a property investment professional who, over the last 23 years, has introduced innovative real estate strategies to the UK, Australian and the United States. His creative 'low-risk, high-reward' approach to buying and selling houses is exemplified in his own business, We Buy Houses.
This year marks the 10 year anniversary of Mr Otton introducing his strategies to the UK, and the 5 year anniversary of his innovative 'Buy A House For A Pound' process – one that attempted to be emulated by others. His constant process of strategy refinement, and adapting to the ever-changing real estate market, continues to place him at the forefront of property investment education.
In 2012 Rick Otton published his Australian book 'How To Buy A House For A Dollar' which was named in the list of Top 10 Most Popular Finance Titles for 2013. A UK version is on the drawing board for publication in 2014.
Mr. Otton freely shares insights into his non-bank-loan strategies that have allowed everyday UK men and women to beat the rental cycle and have their own homes. He coaches others on how to build profitable businesses by facilitating transactions that focus on the needs of potential buyers and motivated sellers.