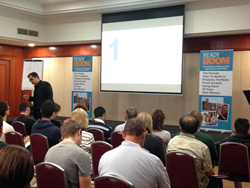 For the past couple of months, there has been strong rumors circulating that the BoE would finally raise interest rates after 66 months or 5 years and 6 months of keeping the base rate at 0.5 per cent.
(PRWEB) September 09, 2014
The Bank of England's Monetary Policy Committee (MPC) voted to keep interest rates at 0.50 per cent, Mortgage Introducer reported on 4 September 2014.
In light of this property news, Rick Otton, a highly respected property coach, stresses the importance of utilising alternative strategies so that investors are always in a position to adapt regardless of how the market turns.
"For the past couple of months, there have been strong rumors circulating that the BoE would finally raise interest rates after 66 months or 5 years and 6 months of keeping the base rate at 0.5 per cent. These rumors were even strengthened last month when 2 members of the MPC, Martin Wealy and Ian McCafferty, voted to increase the interest rates by 0.25 to 0.75 per cent. However, all of the speculations are temporarily quashed as the MPC voted last 4 September that they would maintain the status quo," he said.
"This is great news for a lot of mortgage holders in the UK, since, based on a recent study, around half of UK homeowners were classified as unprepared to face the financial consequences of interest rate hikes on their monthly mortgage repayments. But as the saying goes, 'prevention is better than cure,' so rather than risk exposing your family to unmanageable financial stress, it's advisable for many home buyers and property investors to enter the market through a strategy that gives them multiple options when market conditions do change," Mr. Otton added.
Mr. Otton then said in a recent interview for RickOtton.co.uk that seller finance strategies offer buyers the flexibility they are looking for especially in a dynamic market setting.
"At the core of seller finance strategies are flexible terms entered into by the buyers and sellers. These strategies, unlike the traditional process, eliminate the need for high deposit fees or new mortgages when buying and selling houses. For instance, buyers can negotiate to assume existing loans and pay the remaining equity in increments. In that way, buyers are able to minimise upfront costs. In exchange, sellers get to move away from unwanted debt quickly and create cash flow at the same time. Hundreds of homeowners and property investors in the UK have already experienced the benefits of this system, and it's about time that more people get to join them," according to Mr. Otton.
Visit http://www.rickotton.co.uk/ today to get more information about creative seller finance strategies and how these strategies can be applied in changing market conditions.
About Rick Otton
Rick Otton is a property investment professional who, over the last 23 years, has introduced innovative real estate strategies to the UK, Australian and the United States. His creative 'low-risk, high-reward' approach to buying and selling houses is exemplified in his own business, We Buy Houses.
This year marks the 10 year anniversary of Mr Otton introducing his strategies to the UK, and the 5 year anniversary of his innovative 'Buy A House For A Pound' process – one that attempted to be emulated by others. His constant process of strategy refinement, and adapting to the ever-changing real estate market, continues to place him at the forefront of property investment education.
In 2012 Rick Otton published his Australian book 'How To Buy A House For A Dollar' which was named in the list of Top 10 Most Popular Finance Titles for 2013. A UK version is on the drawing board for publication in 2014.
Mr Otton freely shares insights into his non-bank-loan strategies that have allowed everyday UK men and women to beat the rental cycle and have their own homes. He coaches others on how to build profitable businesses by facilitating transactions that focus on the needs of potential buyers and motivated sellers.