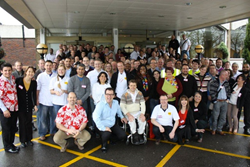 Despite the encouraging statistics, renowned property coach, Rick Otton, emphasises that not all areas are enjoying the same kind of efficiency.
(PRWEB) August 09, 2014
A new study from 'Move With Us' showed that houses in the UK now sell 15 per cent faster compared to properties sold at the same time last year, the Estate Agent Today reported on 4 August 2014.
Despite the encouraging statistics, renowned property coach, Rick Otton, emphasises that not all areas are enjoying the same kind of efficiency.
"The study revealed that houses stayed an average of 88 days on the market this year. This is 16 days faster than last year's average and the fastest selling time recorded last 2007. However, even 'Move With Us' admitted that the fast turnover of properties were not felt everywhere in the UK. Properties in North East England required an average of 138 days in the second quarter of 2014 before they were sold. On the other hand, homes found in Greater London were sold an average of 43 days," he shared.
"Data available in the market right now make it appear that your property needs to be in a specific part of the country before you can sell it within a matter of days. If this were true, people living in the countryside wouldn't be able to sell their house within 3 months upon listing, and every property in the city would be sold immediately right after it's put on the market. Fortunately, this isn't the case in real life property deals, and the most fool-proof way to make real estate easy to sell is through making it easy to buy," Mr. Otton commented.
Mr. Otton the shared in an interview for RickOtton.co.uk that the concept of "easy to buy, easy to sell" is founded upon strategies that allow for flexible payment terms between the buyers and sellers.
"Homes for sale become easy to buy when you don't require the buyers to pay for a huge amount of deposit or apply for new mortgages just to get their foot in a property for sale. This can be done through flexible payment terms which allows the buyer to assume the existing mortgage and pay the remaining equity in increments. It's a far more convenient option than saving for a 10-20 per cent deposit and applying for a new bank loan," he said.
Visit http://www.rickotton.co.uk/ today to get more information about creative seller finance strategies and how these strategies can be applied in changing market conditions.
About Rick Otton
Rick Otton is a property investment professional who, over the last 23 years, has introduced innovative real estate strategies to the UK, Australian and the United States. His creative 'low-risk, high-reward' approach to buying and selling houses is exemplified in his own business, We Buy Houses.
This year marks the 10 year anniversary of Mr Otton introducing his strategies to the UK, and the 5 year anniversary of his innovative 'Buy A House For A Pound' process – one that attempted to be emulated by others. His constant process of strategy refinement, and adapting to the ever-changing real estate market, continues to place him at the forefront of property investment education.
In 2012 Rick Otton published his Australian book 'How To Buy A House For A Dollar' which was named in the list of Top 10 Most Popular Finance Titles for 2013. A UK version is on the drawing board for publication in 2014.
Mr Otton freely shares insights into his non-bank-loan strategies that have allowed everyday UK men and women to beat the rental cycle and have their own homes. He coaches others on how to build profitable businesses by facilitating transactions that focus on the needs of potential buyers and motivated sellers.