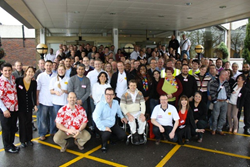 Seller finance strategies redefine the standard in property transactions through allowing flexible payment terms between buyers and sellers.
(PRWEB) August 23, 2014
New LSL Property Services/ Acadata House figures revealed that UK house prices jumped 5.7 percent in the 12 months leading up to June 2014, which means the average rate for houses in the country is now at £164,105, the Mortgage Introducer reported on 18 August 2014.
In light of this property news, Rick Otton, a highly-respected property coach in the UK, tells UK residents that this continuous increase in house prices shouldn't prevent home buyers or property investors from the entering the real estate market.
"The report revealed that house prices actually experienced an average monthly rise of 1.1 percent from June 2013 to June 2014, and despite the very high market activity in London, the actual center of growth for the UK housing market were Edinburg and Glasgow which experienced a 4.2 and 4.5 percent rate of growth, respectively. Ending the report on a positive note, a property analyst shared that even though prices grew the last 12 months, around 42,200 property transactions were still recorded in the first six months of 2014," he said.
"The number of property transactions around the country is a sign that the demand is there. Unfortunately, high deposit fees and stringent requirements for new mortgages make it more difficult to buy property or build a portfolio," Mr. Otton discussed.
Mr. Otton then said in a recent interview for RickOtton.co.uk that his struggle shouldn't be the norm for UK residents because there is a way to purchase property for sale even without getting new mortgages or saving up a large amount of cash for a deposit fee.
"Seller finance strategies redefine the standard in property transactions through allowing flexible payment terms between buyers and sellers. For instance, rather than take out a new bank loan, a buyer can negotiate to assume the existing mortgage and pay the remaining equity in portions. This way, the buyer avoids the usual obstacles in housebuying such as having to pay a large deposit upfront. The seller, on the other hand, will be able to move away from unwanted debt immediately and create passive income," according to Mr. Otton.
Visit http://www.rickotton.co.uk/ today to get more information about creative seller finance strategies and how these strategies can be applied in changing market conditions.
About Rick Otton
Rick Otton is a property investment professional who, over the last 23 years, has introduced innovative real estate strategies to the UK, Australian and the United States. His creative 'low-risk, high-reward' approach to buying and selling houses is exemplified in his own business, We Buy Houses.
This year marks the 10-year anniversary of Mr. Otton introducing his strategies to the UK, and the 5-year anniversary of his innovative 'Buy A House For A Pound' process – one that attempted to be emulated by others. His constant process of strategy refinement and adapting to the ever-changing real estate market continues to place him at the forefront of property investment education.
In 2012 Rick Otton published his Australian book 'How To Buy A House For A Dollar' which was named in the list of Top 10 Most Popular Finance Titles for 2013. A UK version is on the drawing board for publication in 2014.
Mr. Otton freely shares insights into his non-bank-loan strategies that have allowed everyday UK men and women to beat the rental cycle and have their own homes. He coaches others on how to build profitable businesses by facilitating transactions that focus on the needs of potential buyers and motivated sellers.