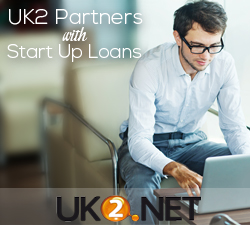 We're pleased to partner with UK2... Having free web hosting for the first six months, then a discounted rate thereafter will mean that their budget will go that bit further.
Shoreditch, London (PRWEB UK) 14 March 2014
This week, entrepreneurs and new businesses received a well deserved helping hand, as UK2 joined up with the not-for-profit Start Up Loans project to provide free web hosting to new businesses.
Supported by the government, Start Up Loans offers reliable loans to entrepreneurs and new businesses; but that's not the end of the story. The organisation also provides access to mentoring for new companies, from business titans like Virgin and experts like the Prince's Trust. UK2 will add to the resources provided to new businesses by offering free website hosting services for six months and then deep discounts thereafter.
"At Start Up Loans we know that there are many costs involved in starting a business, so we partner with companies that can offer our loan recipients the best possible value," said Elliot Gold from Start Up Loans. "We're pleased to partner with UK2 as the majority of our start-ups have a website or are in the process of building one. Having complementary web hosting for the first six months, then a discounted rate thereafter will mean that their budget will go that bit further."
Since the red ribbon was cut on the project, just over a year ago, Start Up Loans has lent more than £71 million to over 14,000 new companies. It's boosted the budgets of an alphabet's worth of companies, from chocolate-makers to videographers.
"This clearly demonstrates the ambition and drive people in this country have to create a business and I am pleased that Start-Up Loans are helping more and more entrepreneurs who start small but think big transform their ideas into viable, growing businesses," said David Cameron. "I am on the side of people who want to work hard and get on in life."
UK2 joins a select group of other partners, like legal advisors and insurance providers, who are also trying to make life easier for start-up businesses. For its part of the partnership, UK2 has created a special offer, designed to help new businesses get their websites and other online essentials off the ground.
"The enthusiasm of entrepreneurs and new business owners is second to none, and it's one of the things we love most about the work we do daily," said Sara Cunha-Rego, the marketing director for UK2. "Partnering with Start Up Loans is a perfect match as it provides something each recipient needs and offers us the opportunity to give back."
The UK2 deal starts off by offering Start Up Loans recipients a complementary web hosting package for six-months. It goes on to give 50 percent off a two-year Web hosting plan if the business wants to continue running their Web presence through UK2.
New businesses will be eligible for the UK2's deal as soon as their application for their start-up loan has been approved. If you've got a business idea that you've been meaning to get off the ground. Get in touch with Start Up Loans to see if you'd be eligible for their business loan and mentoring here.
ABOUT UK2.NET
UK2.net has been a major player in the web hosting industry since 1998 and is part of UK2 Group. They provide a variety of services including domain names, email hosting, shared web hosting, cloud hosting, reseller, ecommerce solutions, VPS and dedicated servers to individuals and businesses. UK2.net is also one of the biggest and fastest growing web hosting companies in the UK.
UK2.net is the founding member of the UK2 Group, a group of interconnected global and UK web hosting companies that operate independently whilst sharing knowledge, expertise and resources. Having this wide range of companies under one group allows them to achieve a greater global reach while providing world-class hosting services to their customers. To learn more about UK2.net visit http://uk2.net.